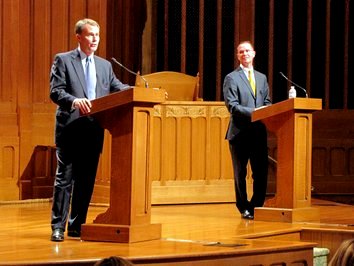 Indianapolis mayoral candidates Chuck Brewer and Joe Hogsett say they see the growth of downtown neighborhoods as imperative to the city's future economic success.
They both pledged Thursday that, if elected mayor, they'd take a hard line on absentee landlords and less-than-thoughtful developers, but offered different approaches for how they'd work to improve historic neighborhoods.
The candidates appeared together in front of an audience of at least 100 people at the Indiana Landmarks Center for a forum on neighborhood issues, including historic preservation, improving schools, affordable housing and crime.
"We cannot be a downtown of nothing," said Hogsett, a Democrat and former U.S. district attorney, harkening back to a saying of former mayor Bill Hudnut, who often remarked, "You can't be a suburb of nothing."
Hogsett, who earlier Thursday released a plan that called for hiring neighborhood advocates to be "builders" and "organizers," said investing in downtown dwellings means a healthy skepticism of the interests of developers. A neighborhood's growth, he said, should be fostered from within its borders, not from the top down.
"The rising tide that we see in our downtown may dissipate if we do not have strong growing neighborhoods outside of the Mile Square," Hogsett said. Our mission "is to build 50 or 100 neighborhoods that are different, special and true to themselves This means not believing in development for development's sake."
Brewer, a downtown business owner and U.S. Marine reservist, said he would bring an "entrepreneurial" approach to tackle the issue of neighborhood redevelopment.
The Republican candidate said the goal of preserving historic homes has to be balanced with making these neighborhoods attractive and livable.
"For them to see the kind of development and infusion of new homeowners and young homeowners, there is a fine balance we have to reach between the charm and historic nature, and people's expectation that there's sidewalks, newly paved roads and well-functioning drain systems and sewers."
Both candidates agreed the city needs to offer high-quality low-income housing to give poor residents a safe place to live.
Hogsett said he was disturbed to learn that about 25 percent of U.S. renters pay more than 50 percent of their incomes on rent and utilities. He said that demonstrates the need to "preserve and protect affordable housing options" and study what's been done in other cities to reduce that percentage.
Brewer said he wouldn't tolerate developers who didn't understand that need.
"Any developer that gets assistance from the city—either from tax incentives, or abatements or development help—if they don't abide by our expectations to provide some level of fair housing or Section 8 inside those developments, then they're not going to get the deals," Brewer said.
A key issue residents raised was how the candidates would tackle neighborhood blight.
"Our biggest concern is our abandoned, boarded and vacant houses," said Judith Essex, president of the Old Southside Neighborhood Association.
Brewer said he was worried about the city's blight because it's a public safety issue when people use abandoned homes to squat, deal drugs and generally "be up to no good."
The city should track down absentee and irresponsible landlords and "really stick it to them" by holding them accountable to applicable laws, Brewer said.
Hogsett cheered a new Indianapolis program that forces landlords to register. He said he would focus on expanding that system and commission a survey of all abandoned properties. He said he also wants to offer public school teachers the ability to buy a house for a "little cost, if any" if they commit to renovating it and living there.
"We do need to eliminate dens of iniquity, those abandoned homes that have become crime scenes," Hogsett said.
Please enable JavaScript to view this content.