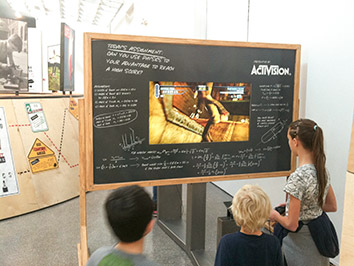 Skateboarding opens the door to the mysteries of physics. Ever try to wrap your head around why skateboard and rider don't separate when both are 20 feet in the air? Have you watched expert boarders seem to defy gravity? Can you imagine the calculations required to figure out how to stay on a halfpipe?
It's surprising that it has taken this long for someone to come up with the idea of turning skateboarding into a science exhibit.
With its exhibit hall tricked out as a skatepark, the Indiana State Museum has done just that with "Rad Science: Skatepark Physics" (through Jan. 3).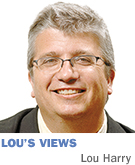 "Rad Science" begins with an introduction to the history of skateboards, making those of us who remember metal roller-skate wheels on boards feel particularly old. The evolution of wheels and boards takes us not just to the present, but into the perhaps-soon world of "Back to the Future"-style hoverboards. Along the way, we learn that one hard maple tree can contribute to about 150 boards and that seven layers of the veneer are glued to form a skateboard deck (that's the "board" part). We even get specifics of local laws, via Indianapolis Municipal Code Sec. 645-528, that govern skateboard use.
The physics eventually come into play, too. Interactives encourage kids to jump and spin to introduce the idea of angular. (No, I didn't know that angular referred to the amount of spin an object is experiencing. We've all got stuff to learn.) Gravity, friction and inertia are touched on in areas where objects slide down various surfaces. Kids themselves can slide down another series of short ramps. Centripetal vs. centrifugal forces are explained in a loop-the-loop area with accompanying videos. And concepts such as center of gravity and finding the fulcrum are demonstrated courtesy of a balance beam and locked-in-place skateboards.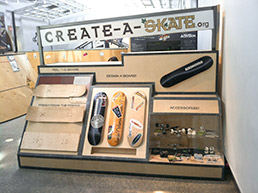 Displays highlight the science behind the sport/hobby. (Photo courtesy of Indiana State Museum)
Also—courtesy of an "outer space weight vs. mass display," complete with a built-in scale—I found out that I'd weigh only 15 pounds on Pluto. While the display seems tacked on to the exhibit, it is nice to know that perhaps my skateboarding skills would be far more impressive on another planet.
Math is mentioned, but not in a particularly hands-on way. It's treated almost like graffiti—meant to be looked at rather than played with. For example, a pretend chalkboard is covered in math terms but really exists only as housing for a Tony Hawk skateboard video game. I would have appreciated more opportunities for patrons to mess with the numbers and formulas. As such, it's sometimes not even clear if videos are touchscreens or not.
The show doesn't shy away from the downside of the sport—the way one's body can collide with pavement while learning new tricks or failing at old ones. An ambulance serves as the backdrop for video of some particularly cringe-inducing crashes (none of them showing blood). Skateboarding, clearly, is a potentially painful way to learn about friction.•
__________
This column appears weekly. Send information on upcoming arts and entertainment events to [email protected]
Please enable JavaScript to view this content.