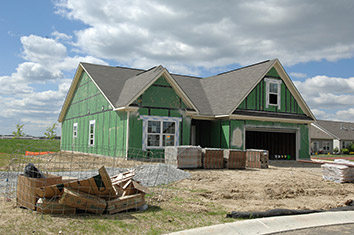 Area home builders saw a slight increase in buyers in August, according to the latest permit numbers from the Builders Association of Greater Indianapolis.
Builders filed 456 single-family construction permits in the nine-county metropolitan area in August, BAGI said Tuesday. That's a 2-percent increase from August 2014 and a 4-percent rise from the previous month.
Area permit filings have risen on a year-over-year basis in four out of the year's first eight months. Year-to-date filings are now at 3,532 through August, down 2 percent compared with the first eight months months of 2014, when 3,596 permits were filed.
Filings were up 19 percent in Marion County, from 63 in August 2014 to 63 in August 2015. Filings are up 10 percent in the county for the year.
Filings rose 22 percent in Hamilton County, from 130 to 158, and are up 1 percent on the year.
Hendricks County saw a 26-percent decrease in permits, from 86 to 64.
Permits dropped 25 percent in Johnson County, from 69 to 52.
Filings increased from 33 to 38 in Hancock County, a rise of 15 percent.
Filings dropped 17 percent in Boone County, from 35 to 29.
Fewer than 20 permits each were filed in Shelby, Madison and Morgan counties in August.
Please enable JavaScript to view this content.