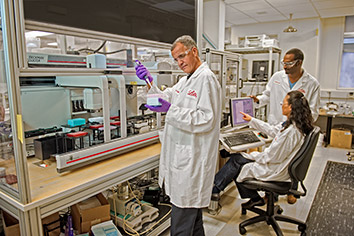 A diabetes pill called Jardiance cut deaths from heart attacks and strokes in thousands of patients, the first drug to show promise in helping subdue two of the world's most rampant health epidemics.
The medicine, sold by Eli Lilly and Co. and Boehringer Ingelheim GmbH, reduced the risk of heart attacks, strokes and cardiovascular deaths by 14 percent in a study of 7,020 people with adult-onset diabetes and a high risk of heart problems. Patients who took Jardiance in addition to standard diabetes and heart drugs didn't actually suffer fewer heart attacks or strokes, but they had a 38-percent lower chance of dying.
The data was presented Thursday at the European Association for the Study of Diabetes annual meeting in Stockholm and published in the New England Journal of Medicine.
Lilly shares were up 4.5 percent at midday Thursday, to $88.26 each, after the findings were announced.
"It's a very significant advance, something that people have been waiting for," Bernard Zinman, director of the diabetes center at Mount Sinai Hospital in Toronto and the study's lead investigator, said. "We've had negative trials one after another that have been called neutral, so this is a long time in coming."
The findings mean some doctors may prescribe Jardiance over rival diabetes products. The challenge is most acute for Merck & Co. The drugmaker recently reported that its best-selling diabetes drug Januvia didn't harm the heart. Still, a rival treatment that lowers the risk of heart attacks and strokes could be an appealing option for doctors.
Heart disease is the leading cause of death worldwide and a particular issue for diabetics, who are 80 percent more likely to have a heart attack and 50 percent more likely to suffer a stroke.
Sales impact
"It may help us turn the corner a little bit on managing diabetes and reducing the risk of cardiovascular events," said Richard Chazal, president-elect of the American College of Cardiology, who called the findings "pretty exciting."
Indianapolis-based Lilly and Germany's Boehringer previewed the study results last month by saying Jardiance, which was introduced in the United States last year, reduced the likelihood of heart attacks, strokes and deaths from heart disease in high-risk patients, though they didn't disclose the full data at the time.
Before the release of the data, Leerink analyst Seamus Fernandez said in a research note that a reduction in cardiovascular risks of 15 percent or more could lead to a revision in clinical guidelines, which could be meaningful for sales of the drug.
Bloomberg analysts previously estimated that Lilly would garner $518 million in annual sales from Jardiance by 2019, but that was before the latest study.
'Paradigm shift'
More than half of the trial participants had diabetes for more than 10 years, and 48 percent were taking insulin, according to Zinman. A majority were taking drugs aimed at preventing heart disease, with 77 percent on statins, 82 percent on aspirin, and 95 percent on anti-hypertensives.
"These patients were all receiving state-of-the-art cardiovascular prevention care," he said. "So the benefit that we see is on top of the treatments we all recommend. That's pretty amazing."
That raises the question of whether the drug could be expanded to other patient groups with heart disease, Zinman said.
The Jardiance trial was conducted to meet regulators' demands that makers of diabetes drugs show their products don't harm the heart, a concern first raised with GlaxoSmithKline Plc's Avandia in 2007. All other studies so far have failed to show a benefit.
Until today, a trial of Merck's Januvia released in June and showing no harm was considered the best available option because it ruled out higher risk. The class of drug that Jardiance belongs to typically lowers body weight and blood pressure.
"It's going to create a huge stir," Zinman said. "The question really is: Is this almost a paradigm shift in our thinking of how we should treat diabetes?"
Please enable JavaScript to view this content.