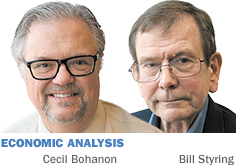 As we submit this column at midday Sept. 16, we predict the Federal Open Market Committee will not raise its targeted interest rate member banks charge for overnight reserves. The rate was set at zero to 0.25 percent in December 2008 in response to the emerging recession. When you read this, we will either be right or wrong. We hope we are wrong.
Near-zero interest rates were supposed to pep up the economy. Six years and 10 months later, economic growth has been positive, but anemic. The unemployment rate has fallen to 5.1 percent, but labor force participation rates are at record lows and full-time jobs are hard to find. But it is not the tepid economy or labor market that will have persuaded the Fed to keep the rate down, if that is the course it chooses. An uptick to 0.25 percent to 0.5 percent would have little impact on that. It is the fear that the dollar will rise.
Among the big three in the world economy—the United States, the Eurozone and China—domestic inflation is the least of the official worries. The European Central Bank and the Bank of China seem intent on goosing their money supplies and lowering their rates to ward off declines in their domestic economic growth rates. If the U.S. Federal Reserve raises its rate, this will further increase the rate difference between cash held in dollar-denominated assets, like U.S. Treasury bills, and cash in foreign assets. This means lots of cash will slosh into American markets, driving the value of the dollar even higher. This, in turn, makes foreign products cheaper to Americans.
And while that's great for us who like French wine and Chinese gadgets, we suspect the decision makers at the Fed fear declining import prices might send the United States into a deflationary spiral. Import prices in the United States were down 1.8 percent in August and 11.4 percent for the year.
Janet Yellen is well-known as an inflation "dove"—which means she is a deflation "hawk"—and the Ivy League macro establishment economists have been advising against a Fed rate hike.
Not that this is what we would do! We think seven years of zero rates is enough and deflation fears are overblown. Zero rates distributed wealth from cash holders to banks and made investment decisions more difficult for everyone. Better to get on with it and bump up now—there will always be an excuse not to tomorrow. So we hope when you read this, you can chide us for being wrong!•
__________
Bohanon is a professor of economics at Ball State University. Styring is an economist and independent researcher. Both also blog at INforefront.com. Send comments to ibjedit@ibj.com.
Please enable JavaScript to view this content.