Childhood friends Sam Milligan and Marc Griffith are slowly trying to add unique housing options in downtown Westfield's residential neighborhoods.

Milligan, 34, started North Ridge Construction and Estate Management LLC in 2010 to bring custom homes to the core of the city—an asset he thought was missing. The company completed and sold its first custom home near North and Cherry streets this spring and has the adjacent property under a purchase agreement.

Griffith, 33, joined the business in March. The duo also owns a third lot across the street from the first two projects.

"Being a Westfield resident, I kept hearing about Grand Junction," Milligan said. "This is kind of where I decided to land."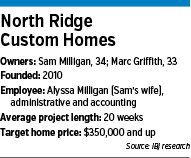 Westfield's historic downtown area, known as Grand Junction, is located primarily to the east of U.S. 31 with State Road 32 running through the center of it. City officials have been laying out a road map for the area since 2009.

It includes the 10-1/2 acres reserved for the city's proposed $25 million Grand Junction Plaza, which is expected to feature new trail connections, a water element, lawn space, an outdoor performance venue, and playground.

Specific standards for the neighborhood subdistrict (one of five in the city's master plan) have not been drafted yet. Officials preparing the Grand Junction framework have mostly emphasized the need for commercial development.

Downtown Westfield Association Executive Director Ken Kingshill, who also serves on the city's Grand Junction Task Force, said housing isn't being ignored but it creates a "classic dilemma."

"Housing is needed to support the retail, but the retail doesn't want to come unless there's housing," Kingshill said. "It's nice that we're having some custom homes being built."

However, he noted that higher-density projects like apartment complexes and the 238-unit Union Street Flats development by Carmel-based J.C. Hart Co. could be more desirable because of downtown's limited footprint.

"Custom homes are great, but they tend to take up a lot of space," Kingshill said. "But a good mix is always sort of the best thing."

Curt Whitesell, broker with WKRP Indy, said custom homes increase property tax revenue.

"It's just a huge difference for the tax base from a financial standpoint," said Whitesell, who specializes in downtown Westfield real estate.

The median home value for downtown Westfield is $255,000, according to WKRP data, up 5.8 percent from last year. The property at 218 North St. that North Ridge has under a purchase agreement was listed by WKRP for $475,000. Milligan and Griffith declined to provide the purchase price but said their target value for purchases is $350,000 and higher.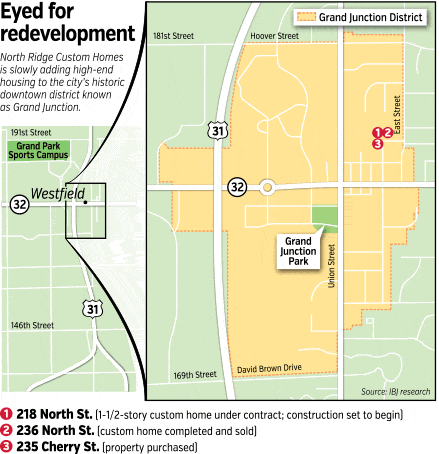 Whitesell also said people who buy custom homes tend to have higher incomes, which could help downtown businesses thrive.

"We desperately need people spending money in our downtown. I don't think a downtown can survive without upper-income residents being downtown," Whitesell said.

While Milligan and Griffith plan to build custom homes outside of downtown, it's their primary focus. They admit that it takes patience to navigate city zoning laws, find available property, and attract residents to the growing neighborhood, but they believe Grand Junction will be successful.

"The infill will happen," Milligan said. "It's going to take time and persistence."

Griffith moved back to the area from Cincinnati in March and now owns the company with Milligan. The only other employee is Milligan's wife, Alyssa, who handles administrative and accounting duties.

Milligan bought the company's first property at 236 North St. about 2-1/2 years ago in a foreclosure sale and the adjacent property to the west shortly afterward. The existing structures on both lots were demolished.

Construction started on the two-story custom home at 236 North St. in 2014; it was purchased before it was completed earlier this year.

"Every house has its learning curve … which makes it fun for us because we get to problem-solve," Milligan said.

Work on the second home hasn't started, but it is under a purchase agreement.

Whitesell said custom homes in downtown Westfield will continue to sell quickly due to the scarcity of inventory and relative affordability.

"I'm confident the custom-home market will go through the roof in our downtown," Whitesell said.

Finding property owners willing to sell within North Ridge's budget has been a challenge, though, Milligan said, and few plots are available.

"Westfield is an interesting community," he said. "It's very loyal, which I love. You have a good part of the community that doesn't want to see change, period."

Griffith stressed that the company isn't trying to muscle residents out of their homes.

"The biggest thing is being patient," Milligan said. "I think [sellers] know I'm being fair."

The duo has one other downtown Westfield property in its possession, which sits at 235 N. Cherry St. across from the two lots on North Street. A one-story house still stands on the Cherry Street lot, but Griffith and Milligan intend to tear it down.

"We really have a thing for urban infill," Milligan said. "We've got our eyes on other properties in downtown."•