Over the decade or so he spent in China's finance sector, Indianapolis native Danny Chan said he sometimes felt as though he were watching himself in a movie.

His friends and acquaintances there were children of the rich elite, which paved the way for Chan to break bread with billionaires, ride in private yachts that seated dozens and, on one occasion, stay in a 4,000-square-foot room in one of China's swankiest hotels.

"It was like an out-of-body experience," Chan said about a dinner he had with one of Facebook's early investors, who, at the time, had businessmen lined up outside her home waiting to pitch her. "I was thinking, 'I don't even know if I should be allowed to eat here.'"

Now, Chan, a managing director at Iconic Private Equity Partners, a Hong Kong-based firm, said he's ready to pay it forward, launching an angel investing group here that will help fund Hoosier startups of all stripes.

Butler
The group is called Indy MD Angels. It's made up of Chan, Indiana University business professor Terry Butler and, for now, 15 Indianapolis doctors. All are accredited investors with at least $1 million in liquid assets.

Chan, who didn't grow up in lavish circumstances, credits his rocket ride to his days as a student at Indiana University, where he cultivated a friendship with Butler that changed his life.

"It's kind of scary how that works, if you think about the loss of one person in your life, someone you didn't get a chance to meet," Chan said.

"I often think, 'Where would I be?' I'd be right here in Indiana like I am now minus a decade and a half of some amazing experiences," he said.

Angel doctors

Chan, an enthusiastic, well-connected 37-year-old who doesn't use social media, lives in McCordsville near Geist Reservoir. He started laying the foundation for Indy MD Angels in April and expects to officially launch it by month's end. The group, which recently leased office space in Bloomington, likely will do two to four deals a year.

The members of Indy MD Angels are not pooling their money, so there's no fund and neither Chan nor Butler will receive management fees. Rather, it'll operate like an informal group of buddies writing checks for the deals they want in on, with Chan and Butler vetting opportunities.

Chan said Indy MD Angels will aim to invest $250,000 to $500,000 per company—typical for seed-stage investments, which usually last about a year. But the group has the firepower to do more.

"If something really blew our mind, Terry and I could go way over" the $25,000 to $50,000 investment range per member, he said.

Payner
Dr. Troy Payner, a neurosurgeon and immediate past president of the Goodman Campbell Group, is a friend of Chan's, having operated on his mother about a decade ago. Chan and Payner bounced around the idea behind Indy MD Angels in January, and Payner invited other doctors in Goodman Campbell to join. He said that, for the most part, their startup investing experience has come through close acquaintances.

"First, we haven't really done any investing in Indiana, so that'll be different," said Payner, 53. "And No. 2, it will be open to things that aren't from friends and family."

While venture capital might not flow as freely in Indiana as in California, venture firms and angel investors do feed startups here. Carmel-based Allos Ventures is one example, and several former ExactTarget executives, flush with cash from the $2.5 billion Salesforce acquisition in 2013, have become angels.

Still, local investors say there can't be too many.

"Any ecosystem that only has a couple of front doors is not a healthy one," said Tim Kopp, who heads the Indianapolis office of Chicago-based Hyde Park Venture Partners. "So I think it's great."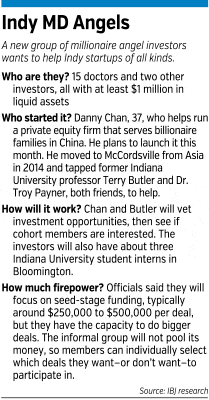 Paying it forward

Chan said that while his new group will benefit startups, a second motivation was to help students.

Indiana University interns will be based in Indy MD Angels' Bloomington office and help Butler and Chan with the legwork of scouting deals. The experience could be a game-changer down the road, Chan said.

"That training is what's going to allow them, when they look for a job, to say, 'I've actually done this. I've looked at 80 business plans and these were the things I was taught to look for,'" Chan said.

The game-changer for Chan was meeting Butler at IU. Butler, 57, started his career on Wall Street and became a serial entrepreneur who launched and sold a couple of startups, including eTapestry, a developer of fundraising software that South Carolina-based Blackbaud acquired for $25 million in 2007.

"I was sitting in an office with another teacher here; I think Danny was in one of his classes," Butler said. "So Danny came in to talk to that teacher, the conversation shifted to capital markets ... so we got to talking." Chan ended up taking Butler's accounting class his junior year.

At IU, Chan was introduced to stock investing after winning a $1,400 lottery his sophomore year. He blew $400 and, at the advice of a friend's father, put the rest in stocks. He eventually started an Internet company called StreetSideInvestor and grew $8,000 into $200,000 trading stocks while in school, he said.

Just before graduating, he was thinking of working on Wall Street. Butler told him what to expect, which wasn't appealing, so Chan was left wondering what to do. Butler hired him to work for a stem-cell company he had recently launched in California.

After Butler's company sold two years later, Chan stayed in California, primarily living off day trading. Along the way, he met businesspeople and investors who had connections in Asia, he said, and he started flying there frequently in the mid-2000s. He became fluent in Mandarin.

The series of moves led him to help broker deals between U.S. and Chinese companies. Last year, for instance, he was involved in the $150 million acquisition of a U.S. company by a Chinese firm. (He said he's prohibited from naming the company under a nondisclosure agreement.)

He joined Iconic, a private equity firm that serves a half-dozen billionaire Chinese families, in 2012. Chan helps find and close investment deals families are interested in, including businesses and real estate.

Chan's familiarity with stem cells helped him forge relationships with Israeli biotech investors, he said. And the folks with Asian ties he met in California helped him become a sought-after adviser and translator for U.S.-Chinese business negotiations.

"You can see how, without Terry, my life's trajectory is pretty different," he said.

That motivated him to approach Butler with his idea to mentor interns, "even though there's no monetary benefit," he said. "But that's OK because, if we can change somebody's life, I feel pretty good about that."

Butler said he's stayed in contact with Chan over the years and moved back to Indiana from Florida for Indy MD Angels at Chan's request.

He said Chan is one of the few people he trusts to partner with on such a venture.

"He's got a lot of energy and is willing to put in the effort," Butler said. "He has very good people skills. And that's a really good skill set to have."

Homebound

While Chan stayed connected to friends and family in Indiana, he didn't see himself re-establishing a life here. He was an accomplished deal maker in Hong Kong, and his wife was a fashion model.

But everything changed when his wife became pregnant in late 2013. They were visiting Indiana for Christmas.

"It blew my mind, because I wasn't ready" for fatherhood, he said.

He and his wife weighed whether to go back to Hong Kong or stay in the United States. Ultimately, they decided they wanted a normal upbringing for their child, "like the normal [one] I had," Chan said. They got a house in McCordsville in 2014.

Chan still works for Iconic and travels to Asia. He also invests in startups personally, so Indy MD Angels amounts to an extension of what he already does.

He said deal flow for Indy MD Angels might come from a few sources. First, he plans to meet with public universities here to discuss funding for products and ideas they might be looking to commercialize.

Chan said Indy MD Angels' interns, three initially but perhaps as many as seven at one time, will likely be undergraduate or graduate finance and accounting majors. He said he might have them contact companies on the Inc. 5,000 list. "We'll just have them introduce ourselves, saying, 'Hey, maybe you're not looking for funding. That's OK. But if you ever are, please let us know.'"

Chan also said he plans to establish relationships with venture capital firms in the state to lay the foundation for partnerships down the road.

Butler, who said he's started, bought, sold and led turnarounds at various companies, said he's not looking for Indy MD Angels to markedly boost the supply of local venture capital.

Venture funding is akin to seeds on a tree, he said—mostly concentrated near companies that have done extremely well. It takes time for success to beget success.

"If we improve the environment so that down the road it becomes easier for other companies to get funded by other people, not just us, then that's a real positive," he said. "I'd be satisfied with that."•