A couple of weeks back, I took some heat over my comments about the mediocre food and lousy service offered at a new brewpub. "You aren't there for the food," said a few critics of my criticism. "You go for the beer."

They were right—to a degree. Certainly, the beer at a brewpub is the prime attraction. But with such places popping up like dollar stores and check-cashing places, it's often the food that differentiates one from another. As many a pub has shown, the number of taps doesn't have to be inversely proportioned to the quality of the food coming out of the kitchen. And the least a brewpub can do is deliver basics in an appealing way.

Which brings us to Blind Owl Brewery Kitchen & Bar (5014 E. 62nd St., 924-1000), a handsome, spacious Binford Boulevard newcomer serving the drinking needs of those who don't feel like trekking west to Broad Ripple and are averse to going north of 82nd Street.

A creation of the Lux family of restaurants (which includes Binkley's, Meridian, and Broad Ripple Tavern), Blind Owl offers a sextet of its own brews, including Baby Steps Pilsner, the awkwardly named Hoo-Brew Honey, and the better-monikered None-the-Wiser. Flights and "Owler" fills are also available for those who, respectively, can't commit or really want to commit.

Like those of its sister restaurants, the Blind Owl menu offers little that's risky or unfamiliar. Appetizers included a hearty plate of crunchy, not-too-greasy, not-too-heavy Beer Battered Onion Rings ($6.99) served with both barbecue sauce and a horseradish aioli, pleasing in its simplicity. Equally fine was Smoky Tomato Bacon Soup ($3.99/$4.99), with a pronounced tang and smoky flavor. A bit of creme fraiche was a nice touch.

Alas, Roasted Chicken Salad ($8.99) was a snoozer, with a lump of blandness atop mixed greens. The house-made honey mustard dressing was creamy and rich but couldn't complete the save.

The Brewer Pizza ($11.99/$13.99) was a marked improvement. A cracker-crisp crust held a smartly balanced mix of irregularly crumbled Italian sausage (to me, that's a good thing), pepperoni, red onions, and a hearty supply of jalapenos. There's also a Garden variety and a Hoo-sier, which features roasted corn and ricotta. Of course, you can always build your own by stacking toppings ($.99/$1.79) onto a base pie ($8.99/$10.99).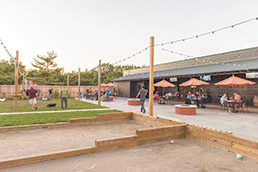 The patio at Blind Owl Brewery, complete with bocce and cornhole, is a hidden treasure. (IBJ photo/Eric Learned)
House Smoked Pulled Pork ($8.99) was moist and flavorful, and didn't require any additional sauce to enhance its taste. It paired well, as good barbecue always does, with cole slaw, but the brioche bun was almost too sweet as a counterpart. Also on the menu: Beer Battered Fish N Chips ($11.99), the obligatory Tenderloin ($9.99), and a slate of Burgers ($8.49-$12.99).

Where Blind Owl might really turn heads is with its sizable enclosed patio area—which you might not notice unless you go through the side door looking for it. There, cornhole, bocce and fire pits can help turn a meal out into an evening of play.•

—Lou Harry