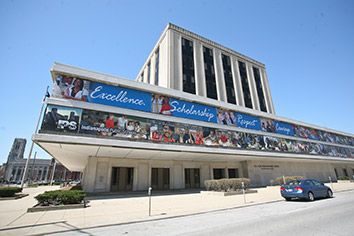 The Indianapolis Public School Board is considering outsourcing the role of district athletic director to a group run by the head of the Indiana Civil Rights Commission.
The board heard a proposal Tuesday night for a $285,000 contract with The FLOwens Group, a limited liability corporation run by Jamal Smith, to manage and oversee its athletic programs this year and next year. Smith proposes to serve in the role of district athletic director, but has broader ambitions than simply making sure interscholastic games are played with the help of a new not-for-profit he is creating called The Lead Change.
What Smith hasn't yet decided, he said, is whether he will leave his job as executive director of the Civil Rights Commission if the contract is approved.
"We'll see," he said. "This is starting to turn into a larger endeavor than I think I originally envisioned."
Smith, who served as co-chair of Mayor Greg Ballard's Your Life Matters Violence Prevention Task Force, described his vision to boost participation in sports, evaluate athletic offerings districtwide, find ways to connect students with community service and determine what programs should be eliminated, expanded or added.
"We know when students are engaged in athletics they are more engaged in the classroom and more successful in IPS and beyond IPS," he said. "This is not geared toward preparing students toward professional careers (in athletics), but to give them the opportunity to stay fit and active and have the interest to come to school to stay involved with this and our core curriculum."
Smith said another key objective is also to raise outside money to support athletic programs, which Superintendent Lewis Ferebee said depend heavily on concessions and fundraisers to cover costs.
"This is an opportunity to bolster the resources that are provided to schools to support these efforts," Ferebee said. "It's activities across the board for elementary, middle and high school."
Working from outside the district, Smith said, can make it easier to do fundraising. Some contributors might be more at ease contributing to a not-for-profit than directly to the district or its athletic department, he said.
"This capacity allows the opportunity to generate some additional resources for the district," he said.
But board members had many questions about the arrangement.
"I think it sounds great but I am trying to understand outsourcing the role of the district athletic director and why we are going that route," board member Kelly Bentley said.
The plan would put Smith in charge of the district's athletic budget, but allow school athletic directors to still make decisions such as what sports are offered, Ferebee said.
Board members LaNier Echols and Mary Ann Sullivan asked for a dollar figure for how much district money Smith would oversee under the athletic budget, a figure Ferebee promised to provide before a schedule vote on Thursday.
"What are we looking at in scale?" Sullivan said. "Because it is a fairly considerable contract."
Smith has worked as an assistant basketball coach at Arsenal Tech High School, a role in which he helped develop an emphasis on community service for a team that also excelled on the court, winning the first state title for IPS in decades.
Smith served as an adviser to then-Gov. Mitch Daniels before heading the Civil Rights Commission the last five years. He has extensive experience in athletics as the former marketing director for the U.S. Olympic synchronized swimming team and membership director for the NCAA Black Coaches Association.
Smith also played college basketball at Ohio's Wright State University and holds master's degrees in both business and sports management. He said he searched for similar arrangements around the country but could not find an equivalent example of external management of a school district's athletic program.
A majority of students who graduate from high school with honors and go on to higher education participate in athletics, Smith said. IPS should get more kids involved in sports and ancillary activities. He suggested new extracurricular programs the district could experiment with, such as student media covering games online or perhaps even managing concessions as a student-run business. Among the added offerings after school Smith said he'd like to see are music and arts programs.
A student's time after school could be better spent in ways that would help prepare students for jobs, keep them healthy and connect them more strongly to their community, Smith said.
"We have 3,500 kids who go home every day at 3 p.m. and just hang around," he said. "If they would stick around for an after-school activity, they would be getting that mentoring, that community service and that physical activity."
Chalkbeat Indiana is a not-for-profit news site covering educational change in public schools.
 
Please enable JavaScript to view this content.