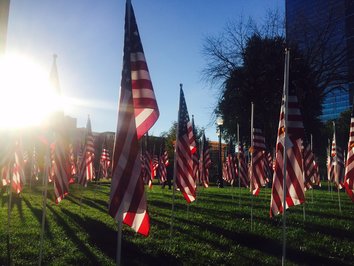 A sea of 250 American flags just south of the Indiana War Memorial in downtown Indianapolis is the first in what organizers hope will become an annual display meant to honor soldiers and emergency personnel while raising money for a good cause.
Beth Carr, her husband and a group of friends make up Flags for Honor, a not-for-profit group that spent the year organizing the first display in University Park. It will be in place through Saturday.
Carr was inspired by a similar program in California, which included a flag to honor her son, a member of the U.S. Marine Corps.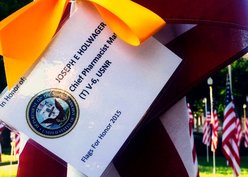 "We received a ribbon in the mail bearing his name and info along with an explanation of what it was," Carr said. "When we Googled it and saw almost 2,000 flags in their display, we were quite impressed and very touched that someone would honor our son in such a magnificent way."
Carr decided Indianapolis needed a similar effort.
Participants paid $25 for the group to plant a 3-foot-by-5-foot flag in honor of a soldier or miltary veteran, or a member of a police force, fire department or emergency response team. Each flag bears a yellow ribbon and a card with the honoree's name and position.
Carr said the proceeds will go to the American Legion Legacy Scholarship Fund, which provides college assistance to children whose parents have been killed during military service.
The majority of the flags this year honor members of the military—including veterans, active duty soldiers or members killed in action. "We do have a small handful dedicated to police, fire, and EMTs," Carr said. "I think now that the display is out, the word will spread and next year we will have even more emergency responder honorees. That's my hope anyway."
She said this year's display includes an anonymous donation to honor Indianapolis Metropolitan Police Officer Perry Renn, who was killed last year while responding to a domestic violence call.
The group plans to prepare a display annually. Information—including a diagram showing the location of each flag and who it honors—is available at flagsforhonor.org/.
Please enable JavaScript to view this content.