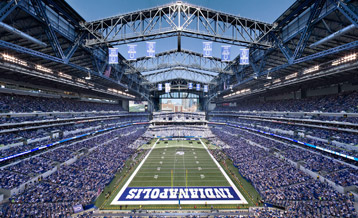 The roof of Lucas Oil Stadium has opened and closed properly in tests three weeks after three fans were hurt when a bolt fell during an Indianapolis Colts preseason game.
The Capital Improvement Board, which operates the stadium, said in a news release that Thursday's tests were successful.
Board executive director Barney Levengood has said the bolt was apparently sheared off as the retractable roof was opening during a Sept. 3 Colts preseason game. Seven loose bolts were found in the same area.
A board spokesman who was asked if the board considered the roof fixed said members are awaiting more information from those who monitored the tests, The Indianapolis Star reported.
Officials have said the stadium is safe when its roof is closed. It was closed for Monday night's Colts game and five high school football games last weekend.
Please enable JavaScript to view this content.