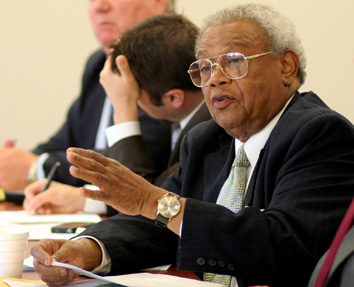 Former Indiana Rep. Bill Crawford, the longest-serving black state lawmaker in U.S. history, died Friday at the age of 79 after an illness, according to his family.
 
Crawford served in the Indiana House of Representatives as a Democrat from Indianapolis from 1973 to 2012, when he retired. His family said he will be remembered for fighting for laws for civil and human rights, as well as helping working people, children and the elderly.
 
"To the end, Bill faced death with dignity and courage," his wife, Bernice Crawford, said in a written statement. "He fought the good fight in sickness as he did in health, and throughout his long career as a public servant. Bill will be remembered here in Indianapolis, throughout the entire state of Indiana and this nation as a champion for the poor and disadvantaged."
 
Crawford, who was born in Indianapolis in 1936, was greatly influenced by the life and death of Dr. Martin Luther King Jr., which spurred him into community activism. He was inspired to run for the legislature by former U.S. Rep. Julia Carson.
 
Crawford, who was in the crowd gathered at 17th and Broadway Streets on April 4, 1968, when Bobby Kennedy announced King's death, was inspired then to live a life of community activism. He was later inspired to run for the legislature by former U.S. Rep. Julia Carson.
 
In 2002, he became the first African-American to become chairman of the House Ways and Means Committee. In that role, he wrote three state budgets.
"He was a giant among men," said House Democratic Leader Scott Pelath, D-Michigan City. "He was a legend, even as he lived. No one in the history of Indiana was a stronger voice for the voiceless. The echoes are everlasting. I will never forget these things. Most of all, I will remember his winning smile, which could fill and illuminate an entire room."
 
Indiana House Democrats said his legislative accomplishments include funding minority health issues, co-authoring the Second Chance Act that gave people with criminal records a path back into society, changing the makeup of the Indianapolis Public School Board, and creating the Low-Income Housing Trust Fund and the Minority Teacher's Scholarship Fund.
 
He also supported the effort to make Indiana the 13th state to forbid the execution of the mentally ill. That effort was later cited by the U.S. Supreme Court, according to the Indiana House Democrats.
 
"A natural leader, like Bill, comes along once in a lifetime, if you are lucky," said former Indiana House Speaker B. Patrick Bauer, D-South Bend.
 
He also had a 25-year career at Ivy Tech Community College, where he ran its community relations and outreach efforts.
 
After his retirement, he remained active in community service activities, including in the Concerned Clergy of Indianapolis, the Indiana Black Expo and Circle City Classic. From 2012 until his death, he worked in the Marion County Treasurer's Office.
Those who worked closely with him said his passing was unexpected.
 
"Just a week ago he was at a meeting," said the NAACP's Carole Craig, who works on education issues for the organization. "He was an absolute guru and just an unbelievable statesman in terms of his passion and commitment to the community, for equity, for the rights of all people. He was a mentor."
 
As the news of his passing spread, legislators and others reflected on his legacy.
 
U.S. Rep. Andre Carson, D-Indianapolis, tweeted about the loss early Friday afternoon, offering his condolences to Crawford's family. Indiana House Democrats also shared the news on social media.
 
"Blessed to have known this amazing man and legislator," Carson tweeted.
 
Indianapolis Mayor Greg Ballard said Crawford will be remembered for championing civic causes.
 
"Indianapolis lost a cherished community leader today," Ballard said. "There is no denying how much he cared for his constituents and Indianapolis. My thoughts and prayers are with his family today."
 
Senate President David Long, R-Fort Wayne, said he worked with Crawford during his time as chairman of the House Ways and Means Committee.
"Bill was an honorable man, and a true fighter for his constituents and the issues he passionately believed in," Long wrote in a statement. "We will all miss him."
Crawford, who served in the U.S. Navy and worked for the U.S. Postal Service, has four children: Darren Sr., Michael, Kim and Monica.
 
Funeral arrangements are pending.
 
Please enable JavaScript to view this content.