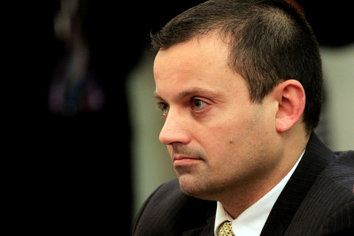 Rep. Jud McMillin, R-Brookville, has resigned unexpectedly from the Indiana House—where he is in the second-highest elected leadership position—after sources say at least one sexually explicit video was discovered on his phone.
House Speaker Brian Bosma of Indianapolis said Tuesday he has accepted McMillin's resignation. Bosma said in a written statement the caucus is "thankful for Rep. McMillin's service to our state, and we fully support his decision to step down in order to focus on his family."
But Bosma provided no details about McMillin's decision, which comes less than a year after the caucus elected him to be the majority floor leader. McMillin was widely expected to seek the speaker's job someday.
Sources close to the Republican caucus said someone obtained McMillin's phone and discovered at least one video that showed the lawmaker involved in sexual contact. The sources did not detail who else was involved.
But before his resignation, McMillin sent a message alerting contacts that his phone had been stolen and to disregard any messages they had recently received from him. "I am truly sorry for anything offensive you may have received," the text said.
McMillin issued a statement Tuesday saying that "after five years of dedicated service I have decided the time is right for me to pass the torch and spend more time with my family."
Bosma did not return a message seeking comment. And Erin Reece, communications director for the Indiana House Republicans, declined to comment.
This is not the first time McMillin has resigned from a job under questions about sex. He resigned as an assistant prosecutor in Montgomery County, Ohio, in 2005 after he had a relationship with the victim in a domestic violence case he was prosecuting. He told the Dayton Daily News that the relationship began after he stepped off the case.
But the woman said in an affidavit that during the time the two were sexually involved, McMillin told her she would be arrested if she did not testify against the man accused of abusing her—even though she had repeatedly said she did not want to press charges. 
This is the third time in recent years a member of the Indiana House has been caught up in a sex-related controversy. Earlier this year, Rep. Justin Moed, D-Indianapolis, acknowledged sexting porn star Sydney Leathers, who had also been linked to former U.S. Rep. Anthony Weiner. Moed has stayed in his position.
In 2011, then-Rep. Phil Hinkle, R-Indianapolis, reportedly hired a male prostitute from an ad on Craigslist. He did not seek reelection.
House Republicans plan to call a caucus in the coming days to fill the majority floor leader position. 
Please enable JavaScript to view this content.