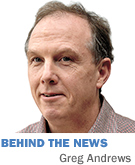 Ameriana Bancorp would be an easy bank to overlook. It has just $481 million in assets and 14 branches, and its headquarters is tucked away in the Henry County seat of New Castle.
But in 2010, Ameriana caught the eye of activist bank investor John Palmer, the principal and co-founder of Naperville, Illinois-based PL Capital LLC.
He began scarfing up shares, and in March 2013 launched a proxy fight for a board seat, arguing Ameriana was deeply undervalued and should consider a merger. Within weeks, Ameriana appeased him, granting PL Capital a board seat as part of a "standstill agreement" that brought PL into the fold.
All of those previously unreported developments help explain why Ameriana announced in June it was being acquired by Muncie-based First Merchants Corp. for $69 million, or $22.71 a share.
The all-stock deal is another big score for Palmer, whose PL owns 9.5 percent of Ameriana. It began buying shares in December 2010 when the price was about $3.80.
It's a playbook Palmer has followed with considerable success. PL has launched 15 proxy contests since its founding 19 years ago, and in all but one instance, it either prevailed or reached a settlement with management and the board, Crain's Chicago Business wrote in a 2013 profile of Palmer.

Palmer
The profile began: "If you're a banker, John Palmer is the scariest ex-accountant you're ever going to see."
Palmer, who could not be reached for comment, told Crain's he sees no shortage of potential targets.
"Don't underestimate management teams and their desires to get their paychecks at the expense of shareholders," he said.
Palmer told Crain's he does not assume that all the banks PL invests in must sell. But he said the blueprint to remain independent almost always entails painful cost-cutting, and CEOs often decide selling is preferable.
That background helps fill in the gaps in a sketchy regulatory filing that First Merchants and Ameriana recently made that describes Ameriana's internal deliberations in the months leading up to the First Merchants deal.
The filing said Chicago-based River Branch Capital in November 2013 and again in June 2014 made presentations to Ameriana's management and board about the market for bank stocks and the merger-and-acquisition environment. The latter presentation included a discussion of potential targets for Ameriana to buy as well as likely acquirers of Ameriana.
Two months later, one of Ameriana's "larger institutional shareholders" submitted a written presentation summarizing the M&A landscape and "potential strategic alternatives for the bank." The filing does not name the shareholder, though PL is the biggest and such a presentation would be in keeping with its strategy.
Whatever was in the presentation must have been persuasive. On Aug. 24, Ameriana hired River Branch to serve as its financial adviser to explore the sale of the company.
According to the filing, Ameriana nearly sealed a deal with a suitor described only as Company A. However, on May 1, four days before the public announcement was scheduled, Company A cut its price, which caused Ameriana to engage in further discussions with First Merchants.
At least two shareholder lawsuits are unimpressed with Ameriana's negotiating savvy and contend the board should have gotten more for shareholders.
The latest, filed Sept. 22, noted that Ameriana has been racking up stellar performance on its own, in part by expanding in the Indianapolis market, most recently with a Noblesville office and a second office in Fishers. Its board was flush with executives who know the Indianapolis market, including City Securities CEO Mike Bosway and REI Investments President Mike Wells.
The suit, which was brought by a Florida shareholder and seeks class-action status, notes that the regulatory filing describing events before the sale says nothing to indicate Ameriana took steps to explore being an acquirer.
The suit says the First Merchants "merger is the result of an inadequate, toothless process during which the board failed to negotiate effectively to achieve a fair price for the company's shareholders." It seeks an injunction blocking the merger or—if the deal closes—damages resulting from the inadequate price.
In a regulatory filing after the first suit was filed, Ameriana and First Merchants contend the legal line of attack is without merit. They say they plan to contest the litigation vigorously.•
Please enable JavaScript to view this content.