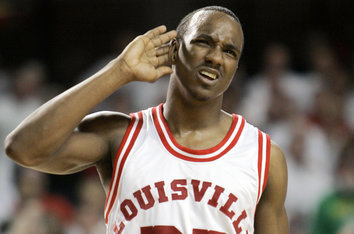 A former head of men's basketball operations at the University of Louisville paid an escort service for four years to provide sex to teenage recruits to help woo the players to join the Cardinals team, according to a book set to be released as soon as Saturday by Indianapolis-based IBJ Book Publishing LLC.
The details of the book, which is based on hundreds of journal entries and thousands of text messages kept by the head of the escort service, have triggered the University of Louisville to launch an internal investigation into its storied men's basketball program. During the years described in the book, the Cardinals went to the Final Four in 2012 and won the national championship in 2013.
The Indianapolis-based NCAA has been told of the internal investigation, according to University of Louisville officials.
Titled "Breaking Cardinal Rules: Basketball and the Escort Queen," the book tells the story of Louisville stripper and escort Katina Powell. She claims she was hired repeatedly by former University of Louisville basketball staffer Andre McGee to provide strippers and prostitutes during the campus visits of highly sought high school basketball players—and in some cases their fathers—as well as then-current Louisville players. The book names players involved.
McGee, who played for the Cardinals from 2005-2009, was a Louisville graduate assistant for two years before being promoted to director of basketball operations in 2012. McGee left the school in 2014 to take an assistant coaching job for the University of Missouri at Kansas City.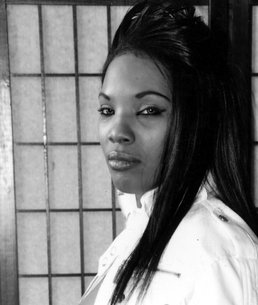 Katina Powell has written a book detailing being hired for sexual services provided to University of Louisville basketball players and recruits.(IBJ Book Publishing)
In her book, the 43-year-old Powell said she provided entertainment for 22 parties from 2010 to 2014, many at Billy Minardi Hall, an on-campus dormitory for many Louisville basketball players. The dorm is named after Louisville men's basketball coach Rick Pitino's brother-in-law, who was killed in the 9/11 attacks in New York.
At the parties, a number of women—including Powell and three of her daughters—stripped and danced in front of the Louisville recruits and players—as well as performed sex acts with them, said Powell.
At those parties, Powell said, high school-age recruits were offered alcohol by McGee, who also arranged additional payment to her and her dancers if the recruits wanted to have sex with them.
In the book, Powell said that over time, she received more than $10,000 for supplying women for parties. That does not include the hundreds of one dollar bills thrown at the strippers by McGee, the recruits and players or the cash paid to the women who had sex with the recruits afterward, Powell added.
"I felt like I was part of the recruitment team. A lot of them players went to Louisville because of me," Powell said in the book.
Calls to McGee, McGee's attorney and an official at the University of Missouri at Kansas City were not returned on Friday.
In the book, Powell details the involvement of several Louisville players and recruits. The book also chronicles the efforts of IBJ Book Publishing to obtain comments from many of those the book names.
IBJ Book Publishing is a sister company of IBJ.
IBJ Book Publishing executives met with University of Louisville officials in Indianapolis Sept. 25 to discuss Powell's story and give school officials an opportunity to provide comments or a statement to be included in the book.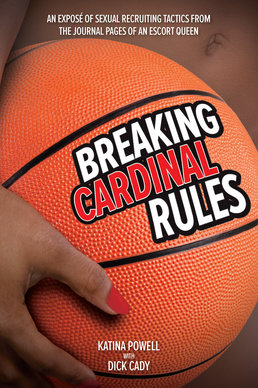 The school's statement for the book said the university has "retained an outside expert to investigate allegations evidently contained" in the book.
"The outside expert is aggressively reviewing this situation in full cooperation with the relevant authorities, including the NCAA," the statement said. "The university notes that the publisher has provided sparse detail to date and [the school] repeats its request for additional detail in order to further the thoroughness of the investigation."
The University of Louisville has retained Chuck Smrt, of The Compliance Group, a Kansas-based firm, to help with its investigation.
The Compliance Group was founded in 1999 and has assisted numerous NCAA Divisions I, II, and III institutions and conferences with NCAA compliance reviews, academic fraud system reviews and other services.
The University of Louisville also provided a statement to IBJ for this story.
"The university was shocked to hear of the allegations," the statement read, adding, "The University of Louisville will continue its review in full cooperation and coordination with the NCAA and if warranted, take any appropriate action. The allegations have been taken very seriously. In no way would anyone at this institution condone the alleged activities."
A call to the NCAA was not immediately returned. However, a source within the NCAA said the association would have no comment until the NCAA completes its own investigation and sanctions—if there are any—are handed down.
Sales potential
In an interview with IBJ, Powell admitted that part of the reason she is doing the book is to make money. Powell will receive 10 percent of the book's sales, according to her and IBJ Book Publishing officials.
"She gets 10 percent commission of the gross, not net. That's a big difference," said Michael Maurer, co-owner of IBJ Media and IBJ Book Publishing. "That seemed like a fair arrangement."
Powell paid no upfront costs. IBJ Book Publishing covered the expenses involved in producing the book, including paying investigators and reporters to vet her story, handling layout and design of the book, and printing, company officials said.
Former Indianapolis Star investigative reporter and Pulitzer Prize winner Dick Cady was hired by IBJ Book Publishing to help flesh out the story and co-write the book with Powell.
"We think this story will have national impact and we felt having someone work on it who is a Pulitzer winner gives credibility to the project," said Patricia Keiffner, publisher of IBJ Book Publishing.
The book contains several photos of Powell and other dancers with McGee and various high school and Louisville players.
Maurer said he has no expectations on how many copies of Powell's book—which will be available in hard copy and electronic versions—will be sold.
"I could sell 10 or 10,000, I have no idea," Maurer said. "I just want a readable, honest book."
Keiffner said that with past books the company has produced, "5,000 would have been a good number of books to sell."
"If we have a book that sells 10,000 in print, that's a home run," Keiffner said.
But she thinks this book could sell even more copies than that.
"I do think it will have a national impact," she said. "I think it will stir conversations about, 'Does this happen at other universities?'"
The book will sell in electronic form for $9.95 and hard copies will be $17.95. While the print version of the book will be sold only through IBJ Book Publishing's website, the electronic version will be sold through most major outlets, including Apple's iBookstore, Google's eBookstore, Sony, Barnes & Noble Nook and Amazon Kindle.
Beyond the money-making potential, Powell said she thinks this story needs to be told.
"I decided to write the book to tell my story and to let people know what goes on inside of college basketball … and how they get their new recruits," Powell said. "It's important for people to know … how young kids are persuaded to do certain things by sex, drugs and alcohol."
'I will tell my story'
Powell said she has no regrets about the parties.
"I didn't look at it as being wrong," she said. "I looked at it as surviving."
But later she had some misgivings.
"The only time I viewed it as being wrong is when I looked at the recruits' faces when they were getting the sex," Powell said. "It kind of made you feel bad that you have this young guy coming in to a college campus thinking he's going to have a little fun, not knowing he's going to have two or three girls on him at one time, he's going to get alcohol, he's going to get anything he wants or that they offer at that time."
Powell describes in the book how one recruit was hustled out as his mother, not knowing what was going on, came to retrieve him.
After a couple of years providing strippers for the basketball players, Powell said in the book, she became irritated about increasing requests from McGee, the former University of Louisville basketball staffer.
In a journal entry, she wrote: "I promise I'm waiting for the right time to take these bastards down. … I just have to be smart and patient as well. At the right time, when I decide to tell my story, I will tell my story."
Powell told IBJ that she didn't mean that journal entry to be vindictive. But if what she and her fellow escorts were doing came to light, she said, she wanted people to know that the requests for these services were coming from inside the University of Louisville.
Vetting the story
Powell came to IBJ Book Publishing with her idea for a book after an Internet search for publishing houses.
"I was Googling different publishing companies and IBJ popped up. I read about them and researched, and I decided to give them a call," Powell told IBJ.
Powell didn't seek a publishing company in or near Louisville because, she said, "I didn't want anybody to judge me or to be biased. I didn't want anybody to leak the story or to be a Louisville fan and not do it right."
Keiffner said she got a call out of the blue from Powell in March asking about the company's services.
"Katina said she wanted to do a book and didn't know how," Keiffner said. "I could tell she was trying to be secretive."
Keiffner thought Powell's story was plausible.
"She seemed very afraid. I told her I was glad she called here," Keiffner said of that initial call.
After conferring with Maurer, conducting multiple background checks—including paying an investigator to retrieve thousands of text messages from Powell's cell phone—meeting Powell and her three daughters in person, and examining Powell's journals, Keiffner decided to green-light the book. Many of Powell's cell phone text messages retrieved by an investigator were matched up with entries in five journals Powell kept and that the book is based on.
"I never have felt she has lied to me," Keiffner said. "If she wasn't sure of something, she'd tell me she didn't remember or she didn't know. It was important to me that she wasn't trying to make up an answer for a book … just to make it sound better."
After meeting Powell in person, Maurer, an attorney, concluded: "She's very credible."
Nevertheless, Maurer didn't take any chances. His book publishing company hired an attorney to scrutinize the manuscript line-by-line before it was published.
When asked if he thought his company would be sued, Maurer responded: "Of course not. I think we've done everything right."
Powell said she has no fear of getting sued over the book.
"What would I get in trouble for? Telling the truth?" Powell said.
She said she thinks the University of Louisville should shoulder most of the blame for what happened, pointing out that McGee approached her through an intermediary—a friend of Powell's who runs a Louisville barbershop.
"[The university] came to me and asked me to do it," Powell said. "That's how they got their recruits. Everybody involved was to blame, but at any time the university could have stopped it."
 
Please enable JavaScript to view this content.