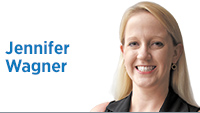 A longtime friend reached out to me via Facebook after a recent television appearance.

"I don't want to sound mean or insulting," the message began. He continued to ask whether I'd ever considered having plastic surgery to correct the dark circles around my eyes.

I didn't consider it mean or insulting. I know I have dark circles around my eyes. I've had them since I was a teenager. I run my own business and I'm the full-time mom of two small children. These facts do nothing to improve the fact that I frequently look tired.

I also know that these circles show up more on television and most of the time I do a good job applying lots of makeup to cover them up. Lots and lots of makeup.

Meanwhile, my Republican counterpart and the male journalists on the show simply put on their suits, arrive at the studio and sit down in their chairs. (To be fair, both male and female broadcasters have to layer on foundation to look the part in our high-definition media world. But that's a job requirement.)

The whole exchange got me thinking about the incredible double standard female candidates combat every day on the trail.

"Look at that face, would anyone vote for that?"

That was Donald Trump attacking former Hewlett-Packard CEO Carly Fiorina last month.

"Now I may not be the youngest candidate in the race, but I have one big advantage: I've been coloring my hair for years."

Hillary Clinton started making that joke to audiences in May as a way of softening criticism about her age. I heard her deliver it when she was here for a fundraising event over the summer. I politely laughed along with everyone else in the room, but it made me cringe on the inside.

Back in 2011, when Melina Kennedy was running for mayor of Indianapolis, I remember the offhand comments about how pale she looked on television.

First Lady Michelle Obama makes fashion headlines every time the White House hosts a state dinner.

From cat videos to car crashes, visual content feeds the 24/7 media beast. And as much as I'd like to say true beauty is on the inside, appearances matter in politics.

Just ask President Obama, who broke the Internet last summer when he apparently violated Washington fashion protocol by wearing—gasp—a tan suit. And there were plenty of tweets about the sweatiness of candidates on stage at the second Republican presidential debate last month.

All I'm saying is appearances matter much more if you're a woman in politics.

If Fiorina were a man, would Trump have taken that first-round cheap shot? Or would he have gone straight at her disgraceful record at HP?

Clinton shouldn't have to make jokes about her hair color before she can have a conversation about her diplomatic accomplishments as secretary of state or her vision for saving America's middle class.

Whether or not I have dark circles around my eyes doesn't affect the political commentary I offer on television.

Maybe electing our first female president will help.

I know seeing female candidates and elected officials sends a message to my 7-year-old daughter that politics is a thing girls can do.

It would just be nice if we could get to the point where we're as initially interested in what those girls have to say as we are in what they're wearing.•

__________

Wagner is a lifelong Indianapolis resident and founding principal of Mass Ave Public Relations, a local public relations and publicity firm. Send comments on this column to ibjedit@ibj.com.