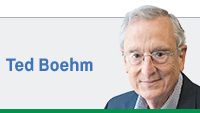 Last September, Chief Judge Richard Young of the federal district court in Indianapolis ruled unconstitutional the procedure for selecting Marion County judges. Three Court of Appeals judges have now unanimously affirmed that the federal Constitution prohibits permitting each party to nominate only one half of the judges, assuring victory to the primary election winners. General election voters, even those who voted in the primary for half of the seats, cast only meaningless votes.
The Court of Appeals ruling in this case is likely the end of the matter. The U.S. Supreme Court usually reviews only cases of national significance. This system is apparently in place nowhere else, so the decision will have no effect outside Marion County.
This constitutional issue has been latent in the law since 1975. The impetus to raise it recently came from concern that the escalating slating fees both parties charged the judges in recent years were unfair and unreasonable, and the candidates' need to curry party favor raised a challenge to the independence of the judiciary.
Unlike the political branches, judges are impartial arbiters, not representatives of anyone, and should not be beholden to anyone.
The Legislature will get first crack at a new system, hopefully one that eliminates campaign finance and dependence on any interest group and also vets candidates for thoughtfulness, experience and patience.
Three versions of appointment from nominees by a nonpartisan commission have been used for some time in Indiana for the appellate bench and trial courts in two large counties. Improvements can be made in their details, but generally these merit systems have worked well. Those who know these courts overwhelmingly believe they improved the judiciary.
Concerns about merit appointment have proven unwarranted. Minority judges continue to be selected. The nominating commission can be structured to local needs and can be selected by multiple officials or groups to limit the influence of any one of them.
No judge's term will expire before 2019. Although there is no immediate need to do anything, the Legislature will presumably act before then because inaction could leave the design up to the federal courts. We could have a plan even in 2016, because waiting until 2017 risks losing the iron grip of the current Republican supermajority on both houses of the Legislature.
A merit system has another virtue. Enactment of a plan that is not tested for compliance with the federal Constitution would risk invalidation by the courts without time to implement a new one. A merit system seems immune from court challenge. Alternatives being floated are less clearly constitutional with one exception—election of all 36 judges at large in the county. But that seems an improbable choice by a Republican Legislature for an increasingly Democratic county.
In a large county, where very few voters know anything about the candidates, judicial elections at large or by district are both bad choices. Both keep money in the game. Both usually elect slates nominally selected by primary election but in reality driven by closed slating conventions. Even if party affiliation is not on the ballot, party support has nonetheless proven a dominant factor.
Moreover, elections where few voters know the candidates provide no serious vetting for quality or even integrity. Political parties sometimes do and sometimes do not provide effective screening. The more common pre-primary rounds of party functions are no substitute for investigation of a candidate's professional and personal history. We have had no problems of corruption or incompetence on the bench since the 1980s, but both have occurred within living memory.•
__________
Boehm is a retired Indiana Supreme Court justice who previously held senior corporate legal positions and helped launch amateur sports initiatives in Indianapolis. Send comments on this column to ibjedit@ibj.com.

Please enable JavaScript to view this content.