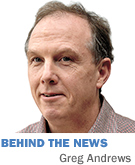 Judges who recently shot down beer wholesaler Monarch Beverage Co.'s legal attempts to also sell liquor made no attempt to cast Indiana's alcohol laws separating beer and booze as savvy public policy.

"Ours is not to determine the best way to regulate an industry or to judge the wisdom or logic of legislative choices," U.S. District Judge Sarah Evans Barker wrote last month, dismissing Monarch's argument that the prohibition against wholesaling both violates the U.S. Constitution. "Monarch's arguments, while perhaps reflecting sound legislative policy, do not represent sound judicial analysis."

Marion Superior Judge Tim Oakes was more blunt in his order in April dismissing Monarch's suit alleging the ban violates the Indiana Constitution.

"The court does agree with plaintiff … that the unique … system set up by the Indiana Legislature is, by today's standards, silly, unnecessary, inefficient, and a convoluted system with little merit that restricts free and open trade," Oakes wrote. "Yet ridiculous does not make a statute unconstitutional."

And so it goes for Monarch, which has become accustomed to setbacks since it launched a full-throated effort eight years ago—through the Legislature and the courts—to change the state's byzantine, Prohibition-era liquor laws.

Indiana follows a three-tier alcohol-regulatory system (with separate manufacturers, wholesalers and retailers) that's in step with the rest of the country. But Indiana is the only state that bars beer wholesalers from holding a liquor permit.

Terry
Monarch CEO Phil Terry doesn't get it. "It is kind of a challenge intellectually to think about why the state has an interest in keeping beer and liquor from riding on the same truck," he said.

While Terry's crusade might resonate with common-sense Hoosiers, he doesn't need anyone's sympathy. Monarch Beverage—founded in 1947 and now in the third generation of ownership by the French family—is a formidable company, with revenue last year of $340 million.

Monarch is the largest Indiana beer wholesaler, selling suds in 89 of the 92 counties and serving as the exclusive wholesaler for MillerCoors in 70 of them.

Those opposing Monarch's entry into the liquor business—including the Wine & Spirits Distributors of Indiana—argue that letting beer distributors compete in liquor would unfairly tilt the competitive landscape in favor of beer wholesalers.

That's because—in yet another legal quirk—state law grants franchise protections to beer wholesalers that liquor wholesalers don't get. While liquor distributors could lose supply contracts at any time for any reason, Monarch would be unlikely to lose MillerCoors because the brewer would have to pay Monarch fair market value for the distribution rights if it jumped ship.

In an amicus brief filed in the federal lawsuit, the Wine & Spirits Distributors struck an apocalyptic tone, suggesting beer wholesalers would leverage their franchise-protection advantage to make inroads in liquor, potentially leading to "monopolistic control over the alcoholic beverage industry by a small number of current beer wholesalers."

Terry said he's trying to hold on to his existing customers, not take over the world.

He said Monarch—which, like liquor distributors, also sells wine—began its liquor push after its largest wine supplier, E&J Gallo Winery, began also selling spirits. Because Gallo prefers to work with one wholesaler for both wine and spirits, the product line expansion could put Monarch's relationship at risk.

Since then, Monarch and its opponents have spent vast sums on campaign contributions for state lawmakers—whose lack of action has merely ensured that the money keeps flowing.

Terry isn't retreating. He said the company probably will appeal last month's federal court ruling. And an appeal already is pending of an Alcohol and Tobacco Commission denial of a liquor permit for Spirited Sales LLC—a separate business Monarch's owners set up.

In June, E.F. Transit, a trucking company with the same ownership as Monarch, sued the ATC, charging its refusal to give the OK for E.F. to provide transportation services to state liquor wholesalers violates federal law.

Monarch is E.F.'s biggest customer, but it delivers goods for firms in a variety of industries. Both companies operate out of the same Pendleton Pike headquarters, where E.F. has invested millions of dollars in a highly efficient conveyor system.

"E.F. Transit would like to use its conveyor system to sort, load, and ship products for wholesalers across the alcoholic beverage industry," the suit says.•