The biggest showdown looming for fantasy football goliaths DraftKings and FanDuel has nothing to do with which one can nab the biggest share of the exploding daily fantasy sports market.
Instead, state and federal lawmakers are taking a serious look at the legality of their services—a move that could put them out of business in Indiana and other states.
Arizona, Iowa, Louisiana, Montana and Washington have already deemed the Web-based contests to be illegal gambling, and Indiana legislators expect to take up the issue in the 2016 session of the General Assembly.

Kenley
"I see their ads everywhere and I say it looks an awful lot like a form of gambling to me," said Senate Appropriations Chairman Luke Kenley, R-Noblesville.
"I'm surprised someone—the attorney general or the Marion County prosecutor—hasn't reacted publicly yet," Kenley said. "I think it's something we need to look into because it's something we need to safeguard Indiana citizens against."
Federal lawmakers are examining the issue as well, fueled by accusations of insider trading. A mid-level manager at DraftKings recently won $350,000 playing fantasy football on FanDuel. His victory closely coincided with a data leak at DraftKings that could have given him an unfair advantage over other FanDuel players.
DraftKings has insisted no advantage was gained, but it has prohibited its employees from playing on another pay fantasy site.
Now, U.S. Rep. Frank Pallone, D-New Jersey, is demanding a review of the sites' legality. And while some observers think states will wait to see what is done at the federal level, Kenley said the Indiana General Assembly won't.
"If the state feels like it's an intrusion on state residents, I think state lawmakers would do something—whether the feds do something or not," he said.
Industry growing fast
Daily fantasy sites have escaladed from an industry that three years ago had entry fees in the tens of millions of dollars to one that this year will generate $3.5 billion, according to Legalsportsreport.com.
Fans pay to compete and draft players for their teams—working under a salary cap—for daily or weekly games in professional basketball, football, baseball and other sports. Fans then compete against one another and can win thousands of dollars—even up to $1 million. The sites also offer rookie leagues to encourage newcomers.
The companies have been around for years, but today, TV viewers can't turn on ESPN or any other sports station without being bombarded by DraftKings and FanDuel ads. According to Ad Age, the two firms spent more than $107 million in TV advertising in September alone.
Both have dozens of sponsorship deals with teams and leagues. FanDuel has multiyear deals with the Indiana Pacers and Indianapolis Colts.
While officials for Boston-based DraftKings and New York-based FanDuel did not reply to requests for comment for this story, they've repeatedly argued their Web-based businesses are not gambling because the outcomes are based on players' skill.
Michael Smith, CEO of the Casino Association of Indiana, isn't buying it.
"Anytime you put money up like this … it looks like gaming to me," he said.
The distinction is important. In Indiana—and other states—gambling is unlawful until it is specifically legalized and regulated.
Defenders of DraftKings and FanDuel compare putting money in fantasy leagues to investing in the stock market. That's nonsense, Smith said.
"With the stock market, you can take your money off the table," he said. "Not with a bet. So this is a bet. You could argue it's pari-mutuel wagering. But it's definitely a bet."
In pari-mutuel wagering, players essentially bet against one another and the winner takes the pool of money—minus what the house takes out for managing the game. Betting on horse racing is a form of pari-mutuel gambling.
Smith said there's no more skill needed to play on DraftKings or FanDuel than there is to play poker or blackjack—both of which are considered gambling and are regulated in Indiana.

Babbitt
Robin Babbitt, a partner in the law firm Ice Miller who specializes in gambling, business litigation and government affairs, said DraftKings and FanDuel "are certainly illegal under Indiana law as it pertains to Internet wagering."
Some states allow wagering on contests that involve more skill than luck. Indiana's law, however, says gambling occurs when an individual risks money or other property for gain—contingent in whole or in part upon chance.
"There's a big debate about the level of skill versus chance needed to win at these things," Babbitt said. "But I think you could argue there's certainly some element of chance."
Regulated or outlawed?
The Casino Association board had its first discussion on Oct. 7 about daily fantasy companies, Smith said. So far, the association hasn't taken a position.
But Smith, a former Republican lawmaker, said pay-to-play fantasy leagues need to be regulated.
"The legality of this is a question for policymakers; it's hard for me to tell people what to do with their money," Smith said. "But it needs to be regulated to assure it's legitimate. The integrity of the game is key. We favor stringent regulations for all gaming."
Some casinos and horse-racing tracks have voiced concerns that fantasy leagues are taking bettors—especially much-sought-after young gamblers—from their establishments.
But Smith doesn't see pay-to-play fantasy leagues as competition. In fact, he said if the leagues are legalized and regulated, some Indiana casinos and racinos would likely launch their own fantasy games or partner with existing leagues.
Earlier this year, Rep. Alan Morrison, R-Terre Haute, introduced House Bill 1074, which would have permitted Hoosier Park Racing & Casino in Anderson and Indiana Grand Racing and Casino in Shelbyville to offer fantasy sports games.
Though the bill didn't gain traction, Morrison is expected to champion that cause—or some form of legalizing fantasy sports betting—again in 2016.
"I would argue this isn't an expansion of gaming; it's an enhancement to our existing facilities," Morrison said of his proposal.
He said his goal isn't to be "heavy-handed" with existing fantasy leagues, but to "open it up" to allow Indiana casinos and racinos to profit off the burgeoning business.
"Those facilities employ a lot of people in this state," he said.
If states legalize and regulate fantasy sports betting, not only can they try to ensure the contests are run fairly for participants, they can also tax them.
But the promise of more revenue isn't likely to sway Republican Gov. Mike Pence.

Feigenbaum
"Right now, you've got a governor's office that simply doesn't want to see an expansion of gambling," said Ed Feigenbaum, publisher of Indiana Gaming Insight and Indiana Legislative Insight.
While Pence couldn't be reached for comment for this story, he wouldn't be alone if he opposed fantasy wagering.
"I don't think we need to expand gambling in the state of Indiana," Kenley said. "We need to make sure we're not making gambling overly enticing to Indiana residents and we need to make sure it's done in a legal and wholesome environment."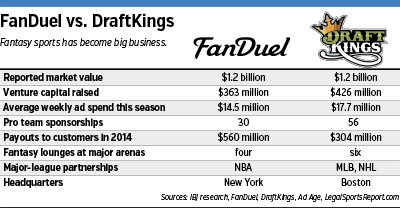 Behind-the-scenes debate
It's not clear that the governor, Attorney General Greg Zoeller and the Indiana Gaming Commission "are on the same page," Feigenbaum said. Their interpretations of what is and isn't gambling might be "a little different" from one another's, he said.
The governor, Feigenbaum said, thinks that if a contest has an element of chance, it's gambling; the attorney general has indicated that, if there is more skill than luck, it might not be gambling.
"I think you'll see this come to a head in the next couple of months," Feigenbaum said.
An official for Zoeller declined comment.
A behind-the-scenes debate among the offices of the governor, attorney general and gambling commission continues, sources said.
Meanwhile, Sara Tait, executive director of the Indiana Gaming Commission, said she is monitoring developments closely.
"The issues associated with these activities are multi-layered and complicated, with interpretations of both state and federal law in play," Tait said.
Even if state lawmakers or the attorney general deem pay-to-play fantasy sports illegal, Hoosiers playing DraftKings and FanDuel might have little to worry about.
"Would a prosecutor prosecute players for this? It would certainly be a big story if they did," Babbitt said. "But they probably have bigger fish to fry."
Feigenbaum said the fantasy companies are more likely targets. FanDuel and DraftKings have been successfully dissuaded from doing business in Arizona, Iowa, Louisiana, Montana and Washington—the states that declared their services illegal.
"It certainly can be stopped if state lawmakers and prosecutors really want to," Feigenbaum said. "In the late 1990s, state Attorney General [Jeffrey] Modisett made it clear there was going to be no Internet gambling in Indiana. He sent notices to gambling sites and went after them. The same could be done here."•
Please enable JavaScript to view this content.