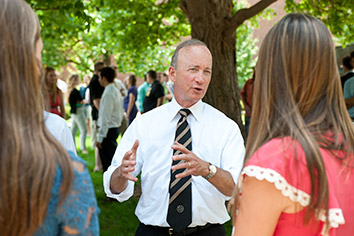 Purdue University President Mitch Daniels can get comfortable in his office suite at Hovde Hall.
The West Lafayette research institution has extended the former governor's contract there through 2020.
Although Daniels' base salary remained the same, Purdue's Board of Trustees on Friday changed his pay structure to include more at-risk performance incentive pay.
Daniels' earning potential at Purdue is $630,000 for each of the next five years, not counting newly created retention bonuses. His base salary is $420,000 and his at-risk pay now is $210,000, which he will earn based on his ability to meet goals in the areas of student affordability, academic achievement, fundraising and the school's reputation.
Previously, his base salary was $420,000, and his maximum at-risk pay was $126,000. For the 2014-15 school year, trustees determined on Friday he was eligible for 90 percent of the at-risk funds, bringing his total compensation to $533,400.
As part of the new contract, Daniels also will receive a "retention incentive" bonus each year in June for every year he stays as president. The first payment would be $100,000 in 2016 and then would increase by $50,000 each year through 2020.
"Mitch Daniels is an extraordinary president," said Mike Berghoff, chairman of the board of trustees. "We recruited President Daniels for this position knowing his record for success running complex institutions. He took on a big job and has achieved well beyond our expectations thus far."
Please enable JavaScript to view this content.