Banks operating in Indiana have been cutting branches since 2009, and the pruning continued in 2015.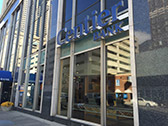 (IBJ file photo)
According to data from the Federal Deposit Insurance Corp., the number of bank branches in the state shrunk by 36, to 2,185, in the fiscal year ended June 30, 2015. That's about 240 branches, or 10 percent, below the 2009 peak.

Indiana has been closing more branches than it's been adding for six straight years, data show. The last time the state had fewer than 2,200 branches was 1995.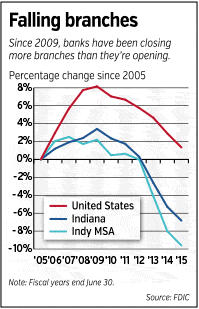 Technology continues to be a driving factor, observers said.

"It's so easy to move money around and deposit it electronically that branches aren't nearly as necessary as they once were," said Mike Alley, a former Fifth Third Bank market president.

Another reason for the decline, Alley said, is that the banks have looked to cut real estate and staffing costs to help offset the squeeze on profit margins caused by historically low interest rates.

Alley said while some of the big banks are trimming branches, smaller institutions are adding them to gain a presence in the market.

"If you look here locally, Lake City [Bank], for example, is adding branches. First Financial [Bank], or Horizon Bank or Centier Bank—they're adding banks because they do not have much presence here."•