Meet the Indianapolis Crimson Knights, a home-school high school football team based on the south side. And since football is football, they're really no different than, say, Carmel. Right?

"Yeah, except without the 120 kids on the roster," Coach Mike Wilson said over the phone.

Well, there's that. He has 26 varsity players—three-fourths of them home-schooled, the others from schools with no football. And while we're on the subject of differences ...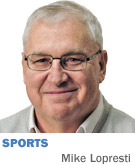 No weight room. No blocking sleds. Most of the practices are in Bluff Park, on the south side—where they have ball diamonds, but no goal posts.

"We don't have the luxury of Monday after-school film sessions," Wilson said. If he wants his players to see anything—like the playbook—he has to send it online.

Not to mention ...

"A lot of times, we usually have seven or eight kids who have never played football, period, let alone on a varsity level. I talk to them about the cover-2 and they look at me like I'm talking calculus."

Also ...

"Every year, we have eight or nine new players who don't know any of the guys. A lot of them live miles apart and they all show up and put on a helmet with the Knights logo, and we go to work."

And finally ...

"When you play on a high school team, you leave your last class and you talk 10 minutes in the hallway with your friends and then you go change and run out to the field and you're good. Here, the parents have to get home from work and they have to get the kids to practice and some of them have to drive 45 or 50 minutes. If I-65 is backed up because of construction, or there's a wreck, that really throws things off."

He used to start practice at 6:30 p.m., but now it's 6, since daylight runs out earlier. But here's the thing about the Crimson Knights. Coming into the current weekend, they were 7-1. They had rolled over such IHSAA members as Covenant Christian 49-16 and Indianapolis Washington 50-0 and Union Dugger 50-6. You know, regular high school teams, who take things like goal posts for granted.

"They probably don't realize we practice PATs on a field with no goal posts," Wilson said. "And we're doing our two-minute offense in an open field that actually is an outfield for a softball diamond."

The lone loss was 33-6 to the SWCHA Saints, who are ranked No. 1 in the eight-state northern region of home-school football. The Crimson Knights, by the way, are No. 2. And if the Saints' name doesn't ring a bell, not to worry. They're from Wisconsin. The Indy team made the five-hour trip there Oct. 10.

"We don't have the money to pay for a nice bus. The parents drive and bring their kids, and we go from there. We're 100 percent parent-driven," Wilson said, and he means that figuratively and literally. That's true right down to who's picking up the check. The cost to play is $305, to cover equipment, insurance, etc.

So there are unique challenges, and a price tag. One question. Why do it?

In Wilson's case, he wanted his home-schooled sons— and other kids like them—to have the opportunity to play football.

"I was pretty adamant that we wanted to play on Friday nights, so they could get the same feeling everybody else does when you run out and you're playing in front of your friends and family and schoolmates. It's huge. Sports is a great way to figure out how life is going to be."

He depends on attracting players by word of mouth, and also getting out the message to schools without football. His 26 players come from hither and yon. His quarterback is from Greenwood, his top receiver from Seymour, one of his leading tacklers is a linebacker from Shelbyville. There are players from Franklin and Indianapolis. His own son Aaron is closing in on 1,000 yards rushing.

They might not have blocking sleds, but they have 15 cheerleaders—all home-schooled, too. They had a homecoming game. They had their first summer camp this year. They have three home games: one at Greenwood Middle School, two others at Trinity Lutheran in Seymour. Wilson has a workout in Seymour once a week, since five of his players come from there.

Wilson played football at Greenwood High School and coached at the middle school. Three years ago, he became head coach for the Crimson Knights. That's when he isn't serving as sergeant first class for the Indiana National Guard. And let the record show he is having the time of his life.

True, he has to keep the offense pretty basic, given the lack of experience. "But we work on being really good at what we do."

True, he and his four assistants have to pretty much do it all. "We're the equipment guys when the helmet breaks during the game."

True, it's kind of hard to improve the kicking game when there are no goal posts for practice. "Last year, we had an exchange student and it was awesome. He was a really good kicker. This year, we're going for two [on the PAT] almost every time."

True, there is no sectional for a team such as the Crimson Knights, and that disappoints the players. "From where we started to where we are right now is light years," Wilson said. "But they do miss the fact there is no playoff." There is a national home-school tournament in Florida, and Wilson is considering trying to raise funds to get there.

But none of that is most important. This is: Football really is football, no matter the circumstances. The Crimson Knights are not like Carmel or Center Grove or Ben Davis. Then again, they are.

"They get the same feeling running out of a tunnel and playing under the lights. They get the same camaraderie," Wilson said. "The friendships they build and having to depend on teammates, they get that same feeling every Friday night."•

__________

Lopresti is a lifelong resident of Richmond and a graduate of Ball State University. He was a columnist for USA Today and Gannett newspapers for 31 years; he covered 34 Final Fours, 30 Super Bowls, 32 World Series and 16 Olympics. His column appears weekly. He can be reached at mlopresti@ibj.com.