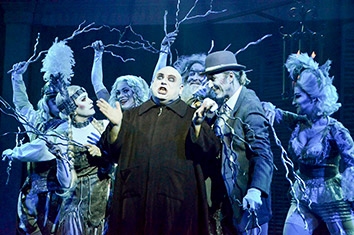 Can a show that features a young woman torturing her brother on a rack and a cheerful ditty about how "Death is Just Around the Corner" still be a feel-good musical?
Yes, as evidenced by the joy oozing, slithering and creeping all over the stage in Beef & Boards' "The Addams Family" (through Nov. 22).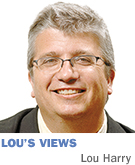 Perhaps you've heard horror stories about this musical adaptation of Charles Addams' cartoons. After a mess of a run in Chicago, the much-hyped show was reworked for New York where it still ran into ghastly reviews. Before launching a tour, it went through another round of tuning. Unfortunately, when the downgraded tour came to Indy, the production was so bad it was hard to see the positive changes. At that time, I predicted that future regional productions would likely be better than one that played Clowes Hall.
Thank you, Beef & Boards, for proving my point.
As with the cartoons, the TV show and the movies, the characters in the stage-musical version are more important than the thin plot. Gomez is asked by daughter Wednesday to keep her engagement to "normal" boy Lucas from Morticia. In "La Cage Aux Folles" fashion, Wednesday encourages her clan to hide their true selves for "one normal night." The resulting complications are fairly predictable—and sometimes inexplicable. (Would a family anchored in honesty such as the Addamses have a family tradition of playing a game called Full Disclosure? What would there be to tell?)
But predictability doesn't rule out pleasure. Key assets in this production include a wonderful Uncle Fester in Shaun Rice, offering a master class in connecting to the audience in a spirited way. When an actor plays a part 400-plus times (as Rice has), it can become rote. Not here.
It's also great to see Amanda Butterbaugh return to the B&B stage. (She's still my favorite Adelaide after seeing many a "Guys and Dolls.") Here, as Grandma, she's a delight. And the rest of the company either meet or exceed the challenges of the show.
It's anchored, however, by the Gomez of Eddie Curry, who delivers the one-liners effectively but underscores everything with his love of family. That core truth allows the audience to care about the silliness on stage and to connect with these alleged monsters. And I dare any dad not to get weepy when Gomez sings "Happy Sad" to his growing-up daughter.
Speaking of songs, it's about time composer/lyricist Andrew Lippa gets more credit. There are good songs in the mix here, appropriate to the show, accessible on first listening, and worth revisiting.
OK, some credit must be given to Vic Missy, whose TV-show theme gets the audience in a finger-snapping mood from the musical's first moments.•
__________
This column appears weekly. Send information on upcoming arts and entertainment events to lharry@ibj.com.
Please enable JavaScript to view this content.