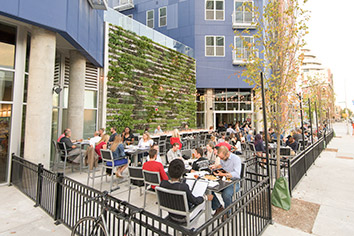 Be careful when making plans to meet friends at The Tap (305 N. Delaware St., 820-5880) lest they end up at District Tap, Taps and Dolls, Tomlinson Tap Room, Chatham Tap, Twenty Tap, or any of Indy's growing list of tap-tap-tapping titled food and drinkeries.
But do invite those friends, because the spin-off of Bloomington's popular spot, the ground-level anchor for the new Pulliam Square apartments, offers plenty of space for socializing, both inside and out on the New York Street patio.
Technically, it's not on Massachusetts Avenue, but The Tap effectively extends the avenue across Delaware, providing an alternative to the more interior-focused drink hubs elsewhere in the Mass Ave district. It also helps bridge the gap between Mass Ave and the rest of downtown. Geographically, it's a win.
I doubt many will argue with the beer list, either, with an updated-daily lineup not just of its own brews (Apple Pie, Hopnotic, etc.), but also pours from 3 Floyds, Black Acre and many, many more, presented on a helpful guide that you might want to download and study before going, less you spend half of your Tap time in analysis paralysis.
I stopped by three times, alone and accompanied, and—while the service was spotty, with indifferent hostessing, long waits on the patio for initial contact, and other missteps—the food did have some high points.
Served in stand-up frites style, the Dill Pickle Fries ($7) didn't lose their pucker in the light breading. Pulled Pork Kettle Chips ($9.50) offered plenty for sharing, with hearty enough chips capable of bearing the weight of the slow-roasted smoked pork, fire-roasted corn, Monterey Jack cheese, tomato, black beans and jalapeno peppers. (I could have used more red and green peppers, but that's me.) A tactful drizzle of barbecue and ranch dressings added perk.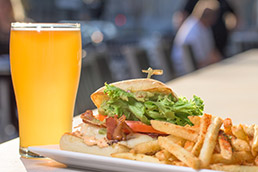 The burger and sandwich list at The Tap includes the California Chicken with cheddar, avocado, bacon, lettuce, tomato and sundried tomato aioli. (IBJ photo/Eric Learned)
I was less satisfied with the California Chicken ($11.50). The poultry seemed barely a notch above Subway, and the white cheddar, avocado, bacon, lettuce, tomato and sundried tomato aioli spilling out of its ciabatta bread wasn't worth reclaiming. Beer Cheese Steak ($10.50) claimed to feature premium steak but, true to the menu description, was "smothered" in house-made beer cheese to a point where I barely noticed grilled onions and green pepper were involved.
Perhaps next time I'll stick with the shareables, which also include fresh tacos ($9.50 to $10.50), artisan pizzas ($9 to $12.50), chicken wings (five for $7, 10 for $12.50, 15 for $18) and much more.
And if I have lots of time to kill, I could just try reading an unabridged copy of the beer menu.•
—Lou Harry
Please enable JavaScript to view this content.