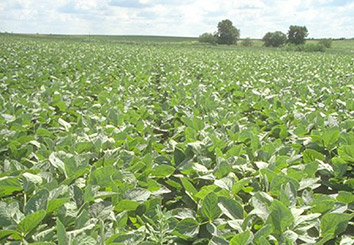 Indianapolis-based Dow AgroSciences LLC could become a stand-alone company or could be sold to a competitor in the next two to three years, its parent company, Dow Chemical Co., announced Thursday morning.
Michigan-based Dow Chemical said it is exploring all options for Dow Agro, which produced $7.3 billion in revenue last year. Dow Agro employs 1,500 workers in the Indianapolis area and 9,000 worldwide.
If Dow Agro became a separate company, it would be the fifth-largest company in Indiana by revenue, ahead of the power utility NiSource and the mall owner Simon Property Group.
"Given the potential synergies in a newly consolidated agricultural market, an attractive opportunity to release value may be upon us," Dow CEO Andrew Liveris said during a Thursday morning conference call with Wall Street analysts and investors. "As a result, the company is only considering those prospects that extract further value from this business while comparing it to the value of retaining the business."
That could include an outright sale, or spinning off the company, Liveris indicated during questioning by Wall Street analysts. But those transactions could also leave Dow Chemical or its shareholders as significant owners of Dow Agro.
For example, Dow Chemical agreed in April to sell its post-harvest agriculture chemicals business, called AgroFresh, for $860 million to a specially formed acquisition company. Dow Chemical retained a 40 percent stake in that new company, which planned to go public.
In another recent deal, Dow Chemical in May agreed to sell its chlorine business for $5 billion to another firm, and the deal gave Dow investors the option to acquire shares in the combined company.
Liveris also said he would consider a minority IPO—a public offering of stock that would keep Dow Chemical as the majority owner of Dow Agro.
"We're open to all constructs that release more value," Liveris said Thursday.
This isn't the first time Dow Agro's future has been thrown up in the air. During the economic doldrums of 2009, Dow Chemical said it might have to sell Dow Agro. And in May 2014, Liveris said Dow's leaders included Dow Agro among the companies they might divest.
On Thursday, Liveris said the Dow Chemical board has for many years done at least semi-annual reviews about the future of Dow Agro. But things got more active in May when seed giant Monsanto Co. made a $45 billion bid for Swiss agrochemicals company Syngenta AG, which would have created an industry behemoth.
"Literally since Monsanto-Syngenta conversations began in May, you can imagine that every player talks to everyone," Liveris said. "So yes, we are all talking to everyone, [but] there's no imminent deal."
Syngenta rejected Monsanto's overtures, and the St.  Louis company withdrew its bid in August. But many have speculated that other deals may be imminent.
There are six major companies in the worldwide crop business: Monsanto, Syngenta, Bayer, Dow Chemical, BASF and DuPont. Germany-based BASF reportedly was raising capital to make a rival bid for Syngenta before Monsanto withdrew its bid. And some industry analysts have speculated that Monsanto might make a bid for Germany-based Bayer or try again next year for Syngenta.
The ag industry is suffering right now, due to declining demand in Latin America and a stronger U.S. dollar.
Dow Agro on Thursday reported third-quarter sales of $1.2 billion, down from $1.4 billion in the same quarter a year ago. The declines were due to lower crop commodity prices in Latin America, driven down because the farm industry has significant unused inventories, as well as currency headwinds.
However, Dow Agro's newer products have seen sales rise 8 percent so far this year, led by its Spinetoram insecticide and Isoclast pesticide.
Dow Agro's operations turned out a loss of $39 million in the third quarter, before factoring in interest, taxes, depreciation and amortization. In the same quarter last year, Dow Agro lost $15 million.
This year's third-quarter results were dampened by the loss of profit from the AgroFresh sale, but were lifted somewhat by a $44 million gain from Dow's sale of a joint venture.
Overall, price and currency pressures pushed Dow Chemical's sales down 16 percent during its third quarter to $12 billion. Its profits soared by 51 percent to $1.3 billion. Profit from operations rose 14 percent to 82 cents per share, way ahead of Wall Street analysts' expectations of 68 cents per share.
One analyst asked Liveris why it would make sense to sell or spin off Dow Agro in a down agricultural market.
But Liveris said it's likely Dow Agro could earn a price higher than it's currently valued as a small unit of Dow Chemical.
"So that begs value release," he said. "We will definitely compare it, as I said in my remarks, to the value of retention."
Please enable JavaScript to view this content.