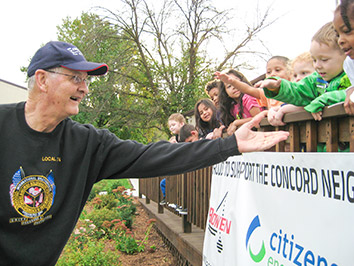 Robert L. Bowen, founder and chairman of Indianapolis-based Bowen Engineering Corp., has earned the right to take a breather. After all, the 76-year-old engineer and entrepreneur has built his own company from scratch and raised four kids. But he's not yet quite ready to settle down.
These days, he's consumed with his work as an adjunct professor at his alma mater, Purdue University. Every Tuesday and Thursday from early fall to December, he journeys to West Lafayette to teach Leadership and Advanced Project Management.
"It keeps me young," Bowen said. "I still feel upbeat and positive and energetic, and I'm not out of energy yet. This has given me a chance to share my success with 60 students each year."
Throughout his half-century business career, Bowen never has been selfish about sharing his time, talent or money to boost the younger generation. Among his long list of achievements, he's a former director of Big Brothers Big Sisters of Central Indiana; co-founder with his wife, Terry, of the Bowen Foundation, which works mostly to advance the educations of African-American students; and former chairman of the Center for Leadership Development, which fosters the advancement of minority youths.

Bland
"When Bob Bowen is committed to a cause, you can begin counting your blessings because you understand, going in, that that project will get done and that it will be done with a spirit of excellence," said Dennis Bland, president of the Center for Leadership Development.
"He's just a good-hearted soul," added longtime friend Jim Morris, vice chairman of Pacers Sports & Entertainment. "He's incredibly generous, and he's passionate about the city. He cares deeply about people. Especially people in need of help. He's always there to help."
Bowen's selfless devotion to the community has earned him the distinction of being the 22nd recipient of IBJ's Michael A. Carroll Award, given annually to a man or woman who has demonstrated the former deputy mayor's qualities of determination, humility and service. Carroll was among six people killed when two small planes collided over southern Marion County on Sept. 11, 1992.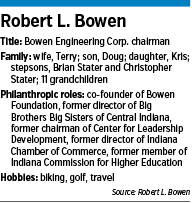 Giving back
Bowen comes by his devotion to community service (and to engineering) naturally. Born in Bluffton, Indiana, he's the son of a civil engineer.
After graduating from Purdue in 1962 with a bachelor's in civil engineering, he worked at a California firm before returning to Indiana in 1967 to found Bowen Engineering. The company specializes in utility, water and wastewater treatment plant construction, with projects in more than a dozen states. It's one of Indiana's largest private companies, with $245 million in revenue and 235 employees.
"Early on, I figured I could do this on my own," Bowen said. "So I started my own business."
Though he's a self-made man, he doesn't think everyone should have to go it alone—a team-based mind-set that helps explain his philosophy toward business and philanthropy.
"We sell stock to employees," he said. "My employees own half of my company. We think that's why we're successful. We share the profits. If they're going to stake their careers with our company, I think we're obligated to share the rewards."
Bowen Engineering is unabashedly pro-union—as is Bowen himself, who counts himself among members of The International Brotherhood of Boilermakers, Iron Shipbuilders, Blacksmiths, Forgers & Helpers. His membership makes him something of a rarity: a Purdue boilermaker who is, in the most literal sense, a boilermaker.
Though he's always been interested in giving others a leg up, Bowen has focused his attention on helping disadvantaged Indianapolis-area students—many of them African-American.
That passion took root in the early 1990s, when then-Mayor Steve Goldsmith asked him to help with a committee that sought to attract minorities to the building trades. It happened, fortuitously, at the same time he and Terry were starting their charitable foundation.
"I really believe helping more African-Americans find their way into the economic mainstream is one of our biggest challenges," he said. The foundation, which focuses on vocational and work force training, has given away more than $1 million.
Much of that money is disbursed via Bowen Scholarships, awarded to qualified African-American students for a maximum of four years or up to 70 credit hours. The scholarships are generally $2,000 to $2,500 per year. The money is not for tuition, but to defray living expenses.
"That takes some of the financial pressure off of them, because many have children and job challenges and travel challenges," Bowen said. "The stipend helps them survive."
Bowen said many of the Bowen Scholars attend Ivy Tech Community College. About 85 percent of the Bowen Scholars at the school earn their degrees.
The Bowen Foundation is far from his only philanthropic effort. Bowen served as the Center for Leadership Development's chairman from 1989 to 2013. One of his biggest projects was helping oversee construction of the group's headquarters at 2425 Dr. Martin Luther King Jr. St.
"When the CLD board made the decision to build a new facility, Bob Bowen's commitment was enthusiastic and categorical," Bland said. "He was so committed that he wanted the two of us to drive to two different cities to personally observe and tour facilities that had been designed by the architect CLD had engaged. Today, seven years post-completion, people still talk about the beauty and quality of the CLD Achievement Center. Bob Bowen wouldn't have had it any other way."
In 2002, Bowen, along with then-Purdue President Martin Jischke, founded Science Bound, a program to mentor Indianapolis Public Schools students. It encourages the pursuit of scientific and technical training, while offering the possibility of full-tuition Purdue scholarships.
Perhaps it's no surprise that, in October 2009, Bowen was inducted into the Indianapolis Public Schools Hall of Fame.
In addition, Bowen has worked extensively over the years with civic organizations ranging from the Indiana Commission for Higher Education to the Indianapolis Chamber of Commerce and the Indiana Chamber of Commerce.
"He doesn't just show up once in a while and write small checks," Indiana Chamber of Commerce CEO Kevin Brinegar said. "He has always seen community service as an important part of being a business owner and leader."
His energy and largesse also have been showered on Purdue University, including funding an endowed chair in construction engineering in Purdue's College of Engineering.
But the Bowens' most high-profile gift is the Robert L. and Terry L. Bowen High-Scale Performance Civil Engineering Laboratory. Dedicated in 2003, the $11 million, football-field-size structure allows engineers to test structures such as bridge components and buildings to determine their hardiness in the real world.

Other pursuits
Bowen has largely removed himself from his company's day-to-day operations, having handed over the CEO duties to his son, Doug.
In addition to sitting on boards and continuing his philanthropic efforts, Bowen enjoys travel and bike riding. And not just a little bit of bike riding. Every year, he pedals up to West Lafayette for Purdue's first home football game. He reckons he's put in about 1,500 bike miles this year so far.
He also golfs, though he says he's "no good." In typical Bowen fashion, he's found a way to turn that pursuit into an exercise in bridge-building by creating his own tournament called the President's Cup.
Begun in 2012 with eight players, this year's edition featured 20 golfers, from business leaders to university presidents and university trustees.
His "share the rewards" philosophy is something he tries to inculcate into his Purdue students.
"Leadership requires that you have to give back," he said. "It's part of the package. My goal is to share my success with as many people as possible in terms of education, work opportunities, values and general concern for others."
Recently, he got to see his "giving back" mantra in action during an Ivy Tech celebration for Bowen Scholars. One student, who'd achieved her degree and was working as a nurse, expressed her desire to help future Bowen Scholars navigate not just higher education, but also work opportunities.
"She's offering to come back and help others," Bowen said. "And that's what leadership is all about. It's about others. It's not about you."•
Please enable JavaScript to view this content.