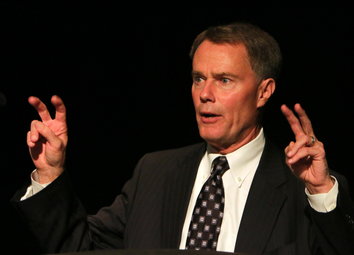 Democrat Joe Hogsett, who is running for mayor, has frequently traded on his frugal reputation.
"I know that many people who run for public office say, 'We'll seek to make more efficiencies and we'll wring out every cost savings we can,'" Hogsett, the former Indiana secretary of state and U.S. attorney, said in a recent interview with IBJ.
"The only difference between all those people and me is that's exactly what I've done for the 10 years I've been in public life," he said. "There's never been a year that I haven't spent less than the year before."
But there's a problem with that claim: It isn't technically true.
Hogsett's wife, Stephanie, made the same claim about the candidate in a recent campaign ad. (She also told voters she can't convince him to pay a neighbor kid to mow the lawn or replace his 30-year-old sneakers.)
Here's where his financial claim comes from—and why it doesn't exactly hold water.
About six months before Hogsett left his post as secretary of state—he served from 1989 to early 1995—he released figures showing six consecutive years of "cutting costs, eliminating waste, and making the operation of the secretary of state's office more efficient."
"It can be done," Hogsett said in the press release dated July 26, 1994, which was provided to IBJ by Hogsett's mayoral campaign. The press release said he returned nearly $1.4 million in unspent funds to taxpayers during his tenure.
Year after year, the press release shows Hogsett's "actual spent" dollars were less than the amount approved in the state budget—one year, he spent 18 percent less.
But according to his own accounting, he hasn't always spent less than he did the previous year. In 1993, he said the office spent $1.79 million. That's much less than his office's appropriation of $2.1 million. But it's about $70,000 more than the secretary of state spent in 1992.
The discrepancies get more pronounced when expenditures in the office's dedicated funds—money generated from fees and fines—are taken into account, according to figures from the State Budget Agency.
Zac Jackson, the state's deputy budget director, said it appears the 1994 press release from Hogsett only looked at spending in funds that received an appropriation from the state's general fund.
Taking into account spending from special funds including the Securities Division Enforcement Fund, Hogsett's claim erodes further.
In all but one of the years, Hogsett appears to have spent less than the total appropriation. In 1991, the State Budget Agency shows Hogsett spending $2.17 million—or 1.4 percent more than the agency's total appropriation of $2.14 million.
But he actually spent more than he did the previous year three times during his tenure as secretary of state. In one year, though, he reduced spending by 15 percent from the prior year.
Hogsett's campaign manager, Thomas Cook, defended the campaign claim. He said the claim holds true if the expenses each year are taken in pairs and judged against a total two-year appropriation, which is the length of the state's budget cycle.
"We simply don't agree with trying to slice and dice statewide office spending in this way, and Joe's record as a taxpayer-friendly public official is unassailable," Cook told IBJ in an email.
There aren't as many available records about Hogsett's tenure as U.S. attorney for Indiana's Southern District.
IBJ put in a public records request to the U.S. Department of Justice's FOIA office for the information, but officials had not responded by Thursday night.
A press release distributed by the office in 2013 announced "the third straight year of spending cuts" under Hogsett's tenure, which he said reversed a trend of rising expenses, all while increasing the number of prosecutions and convictions in the office.
Under Hogsett, the office reduced spending 1 percent in 2011, 2.6 percent in 2012 and 1.6 percent in 2013, the release said.
U.S. Attorney Spokesman Tim Horty said a press release for Hogsett's spending during his last year of office wasn't available.
The discrepancies in the figures are not egregious, said Common Cause Indiana Director Julia Vaughn, but they represent a troubling reality about the nature of political campaigns.
"I don't see his nose growing a foot—maybe half an inch—if he's Pinocchio," Vaughn said. "While campaign rhetoric is mostly rhetoric, it should resemble reality. Inaccuracies like that put a bit of a chink in Hogsett's armor."
Please enable JavaScript to view this content.