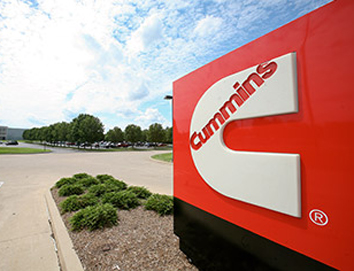 Shares in Cummins Inc. fell nearly 10 percent in premarket trading Tuesday after third-quarter profit trailed analysts' estimates and the company reduced its annual sales forecast due to weakening demand for its heavy-duty engines.
Columbus-based Cummins also said it would cut 2,000 salaried employees—or 3.7 percent of its 54,600-person workforce—as part of a plan to save from $160 million to $200 million a year. It said a majority of the cuts would take place by the end of the year.
Cummins CEO Tom Linebarger said Tuesday that the company projects making about 500 job cuts in its Indiana operations.
Cummins has about 8,000 employees at its facilities in Columbus, Seymour and other Indiana communities.
Linebarger said the company is moving ahead with a planned $30 million office tower in downtown Indianapolis for its global distribution business headquarters. Construction on the project is well on its way.
The company said it would record pre-tax costs of between $70 million and $90 million associated with the workforce reduction in the fourth quarter.
"Adjustments to manufacturing capacity are already being made on a facility-by-facility basis and the company will evaluate if more significant restructuring actions are required in the coming weeks and months," Cummins said in a written statement.
Cummins shares dropped to $101 each before the start of regular trading. They had declined 22 percent this year through Monday's close. Shares were trading at 101.76 late in the morning, a decline of more than 9 percent.
Cummins reported quarterly earnings of $2.14 a share on revenue of $4.62 billion. The average estimates compiled by Bloomberg were $2.60 and $4.91 billion. Orders in China and Brazil are at multiyear lows with no sign of improvement soon, the manufacturer said. Revenue in North America rose 4 percent, compared with an 18 percent decline in international markets.
"We are taking difficult but necessary actions to lower costs in the face of weak demand in many of our markets," CEO Tom Linebarger said in the statement. "Global off-highway and power generation markets have been weak for some time and are worsening."
Cummins said revenue this year will be little changed or maybe even down 2 percent from 2014, after an earlier forecast of an increase of 2 percent to 4 percent.
"While we anticipated revenue weakness from off-highway markets, the magnitude of declines from on-highway were more aggressive than expected," David Leiker, an analyst at Robert W. Baird & Co. in Milwaukee, wrote in a research note. He has a buy rating on the shares.
Please enable JavaScript to view this content.