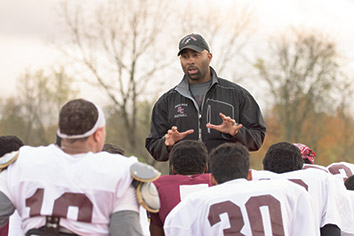 RICHMOND—Across town, the wife of the Earlham College football coach tries to rest, surrounded by the nurses and doctors and machines and tubes that have become her world. How many nights in a hospital now for Melissa Johnson? More than 500, in two arduous years.
In his office, the coach is surrounded by game-plan notes for the coming Saturday. There is still a team to prepare, a game to play. How often has Nick Johnson sat in this chair, trying to do the job of his dreams, with his mind across town on a nightmare without seeming to end?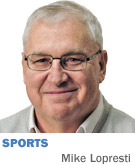 "If I'm being honest," he begins, "it's like being caught in a tornado that just keeps going. It sucks the breath out of you."
Want to hear a love story? Meet Nick and Melissa Johnson. He is from Fort Wayne, she's from Whiteland, and they met at Earlham, a few steps from where Nick works at his desk this day.
"She was coming from the training room and I was coming in the door, and she was dribbling a basketball, and I guess I was in her way. She did some fancy footwork and worked her way around me, and just went on by."
One thing led to another, and good times followed. Marriage in 2005. A daughter, then a son. Melissa became head women's basketball coach at Earlham, Nick coached track and football. Two fit, young people in their 30s, working at their alma mater.
"We were really feeling on top of the world. We talked a lot about how blessed we felt," Nick says.
And then?
"And then the roof caved in."
That was March 2013. The tornado started with severe abdominal pains and an ambulance ride. What's happened since? Nick tries to list them all.
"I feel like I have a medical degree now," he sighs.
There was trouble with blood clotting in the lung, and trouble with female organs, and trouble with the pancreas, and severe bowl obstruction, and then a cerebral spinal leak, and then brain swelling, seizures, incoherence, blood pressure problems, digestive problems, the inability to keep anything down. Once, a Lifeline helicopter rushed Melissa from Richmond to Indianapolis.
"Gastric tubes, nasal tubes, central port, pain pump," Nick says, listing the various things attached to his wife. A cousin publishes a blog—Help Mel Fight—to let friends know how she is doing. Here is a sentence included in a recent report:
"Anytime she lifts her head up, her brain sags and pulls on her nerves, causing excruciating head pain and pressure."
Thus, the road to treatment has been long and winding.
"Mayo Clinic for 20 days," her husband says. "From there to IU, to Cincinnati, back to Minnesota, back to Cincinnati. She's been all over."
Operations and procedures?
"I lost count after 13."
One of her conditions—an intestinal disorder called Meckel's diverticulum—was so unusual, Nick once found medical students around his wife's bed, taking notes.
This for a woman who once competed in mini-marathons. "I think she's struggled with losing a lot of her identity," Nick says. "With being a patient, and being sick."
Meanwhile, there are kids to get dressed for school, lunches to pack, dishes to wash. Plus, a football team to coach.
"Those 40 guys, I feel like I'm a dad to them, too," Nick says.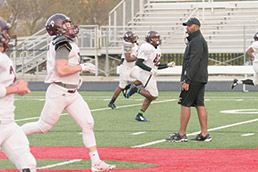 Nick Johnson and his team. (IBJ photo/Eric Learned)
When Earlham offered Johnson the head coaching position last January after his many years as assistant—to try to rebuild a program at the bottom—he was going to pass. He figured that would be unfair to his wife. But Melissa insisted, because she knew how he had longed for the opportunity.
These are hard times for Earlham football. Through eight games, the Quakers were 0-8 and had given up at least 51 points in every game. It has to be miserable. Losing always is. But there is something else at work here. A beleaguered man cherishing the chance, if not yet the result. Even on the dark days.
Yes, even an 0-8 team can be shelter against the storm.
"There are lessons you get from athletics you don't quite get from textbooks," he says. "And some of those things are very transferable to—quote-unquote—the game of life, which is also a tough game for tough people. It gives me encouragement to pass on to her. It gives me encouragement to get through the day. This has been a great release from some of the mire that has been my life the last two years."
But wouldn't it help if maybe the team were better?
"I don't know if I would enjoy the wins more because I have so much more going on," he says. "I'm proud of this team, as odd as that may seem. I don't want any other team. I want these guys to get the lessons, and these guys to make the improvement. To see them transform and learn from week to week has been very powerful for me, and cathartic for me. Yeah, a win would be nice, and we're working toward that."
What means more are the best wishes from his guys. The texts of support from opposing coaches. The words of encouragement from players of other teams, after they have just drubbed the Quakers. The relationships are saving him, not the record.
Sometimes, when Johnson visits his wife, he vents about the losing.
"She gives me about 10 minutes," he says.
The low spots have been, in Johnson's words, "the false positives." She is getting better. No, she is not. Back to square one.
"You think it can't possibly get any worse than this, or this is the end and I have to prepare for them to come in and say she didn't make it," he says. "You're thinking, 'How do I tell a 6- and 4-year-old that Mommy is not coming back?'"  
Melissa's sister lost a child last year, and that prompted his children to ask Nick "if Mommy was going to die, too?"
He searched for words of reassurance.
"I said, 'The doctors are doing the best they can, and Mommy's fighting.' But to be honest, there are times you're not sure." 
He says the recent procedures have helped. More tubes are coming out. The doctors feel better about the trend.
It is hard to imagine how enormous the costs must be for all this. "Compared to what small-college coaches make, absolutely," he says. "It's easy sometimes for me to wonder if we're going to be able to pay the next electric bill. Helicopter rides are not cheap."
But he is quick to emphasize the support of Earlham, and family and friends and community and colleagues. He mentions the food people drop by, the random checks handed him, the fundraisers. A local bakery sold 500 dozen doughnuts to help.
"I'm just stunned by the support," he says. "I have a hard time taking it. I know we need it, but I'm not a hold-your-hand-out kind of guy. I'm a hold-your-head-up kind of guy. So it's been humbling."
The day is moving on. Time for Johnson to go back to his game plans. Back to his life that has grown so complicated, with its relentless questions. Has Melissa really turned the corner? Can the Quakers win a game soon? Will there be money for groceries? How do you tie a little girl's ponytail?
Nick Johnson said his wife is his best friend. But hope must be his second. He says all this has made him a better father, a better husband, a better coach and friend. It has taught him how to endure and persevere.
"I've learned if I put one foot in front of the other, there tends to be a step there," says the coach who thinks of better days to come. What else can he do?•
__________
Lopresti is a lifelong resident of Richmond and a graduate of Ball State University. He was a columnist for USA Today and Gannett newspapers for 31 years; he covered 34 Final Fours, 30 Super Bowls, 32 World Series and 16 Olympics. His column appears weekly. He can be reached at mlopresti@ibj.com.
Please enable JavaScript to view this content.