Has the Religious Freedom Restoration Act hurt Indiana's economy?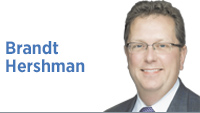 In recent weeks, Indiana has cracked the Forbes Top 10 States for Business list for the first time, has been ranked as the best regulatory environment in the United States for small businesses, has announced more than $2 billion in business and job-growth investments, and the latest data show employment growing at three times the national average. Hoosiers have many reasons to be proud.
But you wouldn't know it by listening to leaders in the Indiana Democratic Party. They have been too focused on scoring political points by peddling a negative narrative that tries to convince Hoosiers the economic sky is falling.
A key element of Democrats' false narrative is that Indiana suffered grave damage to its economy from the controversy surrounding the passage of the Religious Freedom Restoration Act.
It's worth repeating that RFRA was never intended to discriminate against anyone, but this forum isn't for rehashing that debate; it's for discussing RFRA's economic impact—or lack thereof.
Because RFRA was not itself about economic policy—taxes, spending or other fiscal matters—but about protecting all Hoosiers' religious liberty, any discussion of its direct economic impact is highly speculative.
However, Indiana's economic performance since the controversy over RFRA is not a matter of speculation. There is a real record that can be examined, and it's actually a very good story to tell.
In September, Indiana reached its lowest unemployment rate since 2007. Indiana's rate now stands at 4.5 percent—well below the national average. Indiana is also among the top 10 states for job growth over the past year.
The pro-growth economic environment developed by state leaders over the last decade might be lost on Democratic party leaders, but others are taking notice.
CNBC's 2015 report card on "America's Top States for Business" ranked Indiana the best state for cost of doing business. Chief Executive magazine's annual "Best States for Business" survey of CEOs ranked Indiana first in the Midwest and sixth in the nation. Indiana was recently recognized by the Pacific Research Institute as having the lowest state regulatory burden on small businesses.
And it's not just magazines and think tanks that are taking notice. Employers are, too.
Subaru announced in September that it plans to hire over 1,200 people and invest $140 million to expand its Lafayette plant. General Motors announced in May that it is investing $1.2 billion to double the size of its Fort Wayne production plant.
Amazon Inc. recently announced more than 2,000 new jobs for Hoosiers at its fulfillment center warehouses in Indianapolis, Plainfield, Whitestown and Jeffersonville.
The Indiana Business Research Center found that over half of the jobs added in the United States after the recession have been low-wage. But in Indiana, 65 percent of the jobs added have been high- and mid-wage.
The Religious Freedom Restoration Act stirred emotions and rhetoric from all sides, but decisive action by the Legislature ensured that our reputation for Hoosier hospitality endures, and our economic strength continues to grow.•
Hershman, a Republican and a resident of Buck Creek, represents Senate District 7. Send comments on this column to ibjedit@ibj.com.
Please enable JavaScript to view this content.