Has the Religious Freedom Restoration Act hurt Indiana's economy?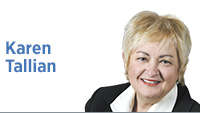 Words matter. The Religious Freedom Restoration Act was passed by Congress in 1993 in response to a Supreme Court case to protect religious rites of Native Americans. As enacted, RFRA was a bill to defend the oppressed. But as our culture evolved over the last 20 years, reactionary activists emerged and misappropriated RFRA. They offer similar words, but their motives appear no longer to be defensive but offensive, using these words as a weapon of social aggression and discrimination.
Perceptions matter. The opinions and perceptions of our established business leaders and emerging entrepreneurs matter. So do the opinions of young Hoosiers and those who might stay or come to Indiana as our future workforce. While RFRA imposed a real cost to Indiana's economy in the short term, the more sustained damage continues to be the battering of Indiana's reputation.
Yes, Hoosiers are the state's most important asset. To compete globally, Indiana businesses rely on the best and brightest to drive innovation. Indiana's world-class institutions of higher education continue to equip students with the tools to launch the next Google or decode the mysteries of modern science. For years, lawmakers and community leaders have labored to attract and retain these professionals.
With RFRA, Gov. Pence and RFRA Republicans set those efforts back on a global scale. The legislation conveyed an ugly and divisive message. Their "fix" was hasty and equivocal. The reality remains: LGBT citizens can get married on Saturday and be fired for it on Monday. Sadly, we continue to send the message: If you value equality, Indiana isn't for you.
Those now in the hot seat will point to a (nationally) declining unemployment rate as proof that everything is fine. They will gloss over Hoosier families' decreasing purchasing power and nearly the slowest-growing wages in the country.
Employers are already feeling the squeeze. Complaints to the Indiana Economic Development Corp. reveal the height of the RFRA hurdle. Companies with diverse workforces balked at relocation and deals fizzled. Existing business relationships have been damaged.
High-tech industries like software and life sciences rely on top talent and pay top dollar. These companies have seen the writing on the wall and are launching an all-out effort during the coming legislative session to see that Hoosiers are protected equally under the law.
Mercifully, one positive element emerged from the RFRA maelstrom. Lawmakers are now well versed in the inadequacy of Indiana's civil rights statutes. To fix this, just a few words can send a crystal-clear message. The words are simple. The action is bold.
Only a bipartisan declaration, with support from the governor on down, that adds sexual orientation and gender identity to Indiana's civil rights statutes can cure this perception that Indiana is an unwelcoming place, and provide the "economic correction" our state so badly needs.•
Tallinn, a Democrat from Portage, represents Senate District 4 in northern Indiana. Send comments on this column to [email protected].
Please enable JavaScript to view this content.