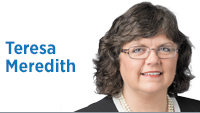 Let's get real—for the sake of our students and their futures. Testing has become a nightmare. We're waiting again. Yes. Again. We as teachers are supposed to use the testing data to inform our instruction and to create better programs for the new school year to help us better meet the needs of the students in our care. But we can't, at least not using the state's data. It's worthless by the time we receive it.

Every school year, teachers start fresh with new students to teach, new experiences to be had, new plans to create. Yet every year we prepare our students to take state-mandated tests. We hold up our end of the deal year after year with the expectation that we will receive data back from those state tests in time to use the data to inform our planning for the new year.

So imagine our disappointment when the results are repeatedly delayed. Disappointed that once again parents, students, teachers and schools wait. What good are the scores now? How do test results received six to 10 months later help students? How do they help teachers identify potential deficiencies and address them? How do they help parents understand the progress their kids are making and where they might need additional support?

When kids take tests in the spring and the results don't come until they are more than halfway through the next grade level, how is that effective? Teachers and students are still waiting.

Teaching is no longer designed to meet needs of students. Teaching is designed to meet the needs of the testing industry. As teachers, we do test preparation, we teach to the test and we build lessons around the test format. We do local tests to see if we are on track to pass the mandated tests.

Whatever happened to teaching students to be independent thinkers and problem solvers? The love of learning is fading fast thanks to nonstop assessing and testing to prepare for "the test." And developmentally appropriate? Nonexistent in test preparation.

It's not just teachers who don't see the value in focusing on standardized tests. Hoosier parents agree. In an Indiana State Teachers Association poll conducted last year, parents listed too much focus on testing among the top problems that schools in their community and Indiana face.

Don't believe parents and teachers when it comes to excessive testing? A recent comprehensive study on testing by the Council of the Great City Schools showed that kids take more than 100 required standardized tests through 12th grade. Yes, 100. The same study showed no correlation between the amount of mandated testing time and the reading and math scores in grades four and eight on the National Assessment of Educational Progress.

What's the point of continuing this push for testing if it is failing to provide meaningful data in real time? No bubble test can measure a kid's curiosity. Problem solving takes a back seat in constant test preparation.

But in real life, problem solving is critical to survival. So much happens at school that shapes our kids' tomorrows, so let's focus more on instilling a love of learning, fostering creativity, and teaching critical thinking skills. Let's get real about doing what works. And we can start by letting teachers, teach.

When we allow teachers to lead their classroom curriculum, students win. When students win, Indiana wins.•

__________

Meredith is president of the Indiana State Teachers Association and has taught for more than 20 years in Indiana schools. Send comments on this column to ibjedit@ibj.com.