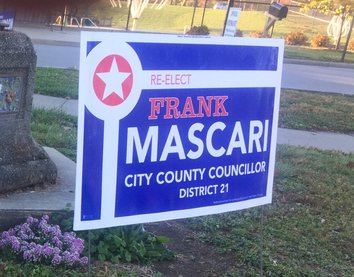 Democrats narrowly retained their majority control of the Indianapolis City-County Council in Tuesday's election, winning 13 of 25 seats to give Mayor-elect Joe Hogsett's party full control of the city government.
"It's a great day to be a Democrat in Marion County," said Council President Maggie Lewis, a Democrat who won reelection easily.
Republicans were hoping for a split government to provide balance between the mayor's office and the council, but several GOP winners said their role doesn't change even if they are the minority party.  
"Whether its minority or majority, it's all about my constituents… anything I can do to help to make our community better," said Republican Janice McHenry, who won her District 6 race with 61 percent over Democrat Frank Islas.
Majority control came down to the District 22 race between Democrat Jared Evans and Republican incumbent Robert Lutz. Evans won with 54 percent of the vote.
State Sen. Greg Taylor, who was wearing an Evans shirt on Tuesday night, said nobody thought the Democrat could win. In fact, the party hadn't even slated Evans in advance of the primary.
"This was a combination of voter apathy and hard work," Taylor said. "Jared Evans won a district against an incumbent and he won it through hard work and dedication for the people of District 22."
Both parties went into Tuesday's election hopeful but concerned about several races.
Republicans said they were worried they would be impacted by the low-energy mayor's race at the top of the ticket, given that Hogsett had such a significant fundraising edge over Republican Chuck Brewer.
And Democrats were concerned because it was the first time running under newly drawn council boundaries—maps created by Republicans back in 2011. The Indiana General Assembly also removed four at-large seats from the council, all districts represented by  Democrats.
Democrat incumbent Kip Tew, who had previously served at-large, lost his District 2 race to newcomer Republican Colleen Fanning. He said late Tuesday he wouldn't have changed anything about his campaign. "I knocked on my doors and I raised more money than I thought I would," he said. "I worked hard."
Three other incumbents—Democrat Pamela Hickman and Republicans Ben Hunter and Robert Lutz—also won't be returning to the council next year.
Here's the outcome of six races that both Democrats and Republicans agreed were the most competitive:
District 2: Democrat Kip Tew, who previously held an at-large seat, lost to Republican Colleen Fanning in the north side district which contains Meridian-Kessler and Broad Ripple.
Tew has championed many of the same causes as Hogsett. Meanwhile, Fanning had endorsements from Ballard and former Angie's List CEO Bill Oesterle and LGBT activist, who wrote her a check for $20,000.
District 3: In the race between two incumbent councilors—Democrat Pam Hickman and Republican Christine Scales—  Scales came away victorious in the battle to control north side areas including Keystone Fashion Mall, Castleton Square Mall and parts of Washington Township.
Scales has been known as a fiercely independent councilor, much to the dismay of her party. Hickman said she would champion preschool and ethics reforms if re-elected.
District: 6:On the far west side, incumbent Republican councilor Janice McHenry won against Democrat and newcomer Frank Islas. The longtime active Republican raised slightly more than him throughout the campaign and said she would continue to fight for infrastructure dollars to come to the west side. Islas, meanwhile, said he would seek to bring more economic development and investment to the west side in hopes to create jobs.
District 16: The race to control this downtown district, which also contains parts of the south side, was expected to be one of the most competitive in the election. But Republican incumbent councilor Jeff Miller easily defeated Democrat Emily Shrock, even though she raised about twice as much money as he did.
In the days leading up to the election, a dust up over a negative campaign mailer attacking Miller's record incensed voters, including Democrats, who said the attack was unfair. 
District 19:Republican councilor Ben Hunter lost control over the far east side district to Democrat David Ray. Hunter said he wanted to work with neighborhood groups to help with their economic development and infrastructure needs. Ray bemoaned a lack of positive attention to the far east side that he thought was affecting its economic development future.
District 21:Democrat Frank Mascari maintained control from Republican Anthony Davidson in the race for the Beech Grove-area district. Mascari said he was "targeted" because of his frequent positions against Ballard. Davidson said he wanted to focus on public safety and economic development in an area that he said seems "forgotten."
District 22:Democrat Jared Evans defeated Republican incumbent Robert Lutz.
The dynamic between the council members and Hogsett will be one to watch when the newly elected politicians take office in January.
Republican Mayor Greg Ballard's relationship with the current council, where Democrats hold a slim majority, has been strained for years, marked by intense disagreements, vetoes and even lawsuits—many over contracts Ballard's administration awarded that didn't go through a public bidding process.
Hogsett said throughout the campaign he would work with whoever was elected to the council to make several ethics reforms, including a "Disclose Indy" website that would track contracts and other public documents.
The mayor-elect said in a policy brief that no-bid contracts "should never be the default position of city government" and that he would seek increased competition into the process to drive down costs and increase transparency.
Miller told IBJ last month that more cooperation between the council and the mayor is sorely needed.
"I think it's crucial that we work as a team on this stuff," Miller said. "I think we've seen that if two bodies disagree enough it can really make a mess. We've wasted money. Whose fault it is is irrelevant."
Please enable JavaScript to view this content.