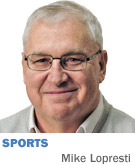 Why is basketball necessary? That's easy. What else would we have to do in Indiana the next few months? The wind blows, it's sleeting when it isn't snowing, and the sun goes south for the winter, along with all the retirees.
Of course, a stirring Colts Super Bowl run could always help warm January and February. Well, never mind.
So let's hear it for college basketball season, which opens next weekend, from Abilene Christian to Youngstown State. To mark the occasion, here are some pertinent numbers involving the state's 10 Division I programs.
16: Percentage of the Associated Press top 25 occupied by teams from Indiana. That'd be Indiana, Notre Dame, Purdue and Butler. More than any other state—so take that, Kentucky and North Carolina. (Sure rebuttal from the Blue Ridge and Bluegrass: Check back in April.)
98.8: Percentage of last season's scoring and rebounding that is returning for Valparaiso from a 28-6 team that lost to Maryland by three points in the NCAA Tournament. This year's mid-major to watch.
17: Indiana's national ranking in scoring offense last season.
296: Indiana's national ranking in scoring defense last season. Kinda sounds like football, doesn't it?
81-53: Indiana State's loss to Loyola in the Missouri Valley Conference tournament last March. Coach Greg Lansing was so annoyed he made those four numbers the code to get into the team locker room this summer, so his players would never forget.
2: Predicted finish for Evansville in the Missouri Valley Conference, matching its highest preseason spot ever. The Aces return all five starters from a 24-12 team that won the Collegeinsider.com postseason tournament.
Plus-8: Butler's improvement in its Big East record last season, from 4-14 to 12-4. That tied for the fourth best jump in the history of the league.
5: Overtime games at home for IUPUI last season, out of 13 dates. The Jaguars could almost have made it a marketing theme: "Buy an IUPUI ticket and get five free minutes!"
11: Players who started a game for Ball State last season.
9: Number of those players back.
1920: The last time—before Chris Holtmann—Butler hired a head coach with college head coaching experience. The name is on the tip of your tongue, right? Harlan Page.
7-2: Purdue's record last season in the nine Big Ten games it trailed at halftime.
2002: Last Sweet 16 win for Indiana.
2000: Last Sweet 16 win for Purdue.
1: Standing arenas in the state that have hosted the NBA All-Star game. Nope, forget Indianapolis. The Fort Wayne Coliseum, in 1953. Home now of the IPFW Mastodons.
52-35: Butler's record the past four years with Roosevelt Jones in uniform.
14-17: Butler's record the past four years when Roosevelt Jones was hurt.
8: Big Ten defensive players of the year from Purdue, including Rapheal Davis last season. That's three more than any other program in the league.
3: ACC teams the past 62 years who have gone from a losing record one season to winning the league tournament the next. Notre Dame did that last year.
250: Listed weight for Purdue vaunted freshman Caleb Swanigan.
360: Swanigan's weight in the eighth grade.
0: Players who averaged in double-figure scoring last season for IUPUI.  Marcellus Barksdale led the team at 9.5, and is back.
17: The age Valparaiso's Vashil Fernandez—last season's Horizon League defensive player of the year—first picked up a basketball in Jamaica.
15: Kids who grew up in Fernandez's three-bedroom (and no inside bathroom) rural house in Jamaica.
170: Blocked shots by Fernandez in his Valpo career.
2: Master's degrees Fernandez will hold when he leaves Valparaiso.
50.9: Notre Dame's shooting percentage last season, second best in the nation behind Gonzaga. Evansville was 10th at 48.5.
514: Points D.J. Balentine needs to become the highest scorer in the history of Evansville basketball.
4: Points Balentine's coach, Marty Simmons, scored for Indiana in the Hoosiers' upset of No. 1 North Carolina in the 1984 Sweet 16.
667: Average number of miles from IPFW to its fellow members in the far-flung Summit League. That includes treks to Denver; Tulsa, Oklahoma; and Fargo, North Dakota.
65: Consecutive games with at least one 3-pointer from Indiana's Yogi Ferrell, the longest active streak in the nation.
8: Players who led Purdue in scoring at least once last season. Six return. 
1: Division I programs broadcasting their games in Mandarin. That would be Indiana. Are they wondering in Beijing how Thomas Bryant is doing?  
3: Indiana's losing streak in Assembly Hall.
1: Indiana's rank in the Big Ten in scoring, field-goal percentage and 3-point shooting the past four years.
4: Returning players for Indiana State who averaged in double-figure scoring, the most of any team in the Missouri Valley Conference. That includes Matt Van Scyoc, who led The Citadel in scoring at 14.3 before transferring.
3: Former head coaches on Tom Crean's Indiana staff. Ball State's Tim Buckley, Marist's Chuck Martin and Northern Illinois' Rob Judson.
2-33: Ball State's record after Jan. 10 the past two seasons.
9: Trips to the Final Four by Indiana schools in the 24 seasons from 1969-1992.
3: Trips to the Final Four by Indiana schools in the 23 seasons since.
It all starts soon. Let the good times bounce.•
__________
Lopresti is a lifelong resident of Richmond and a graduate of Ball State University. He was a columnist for USA Today and Gannett newspapers for 31 years; he covered 34 Final Fours, 30 Super Bowls, 32 World Series and 16 Olympics. His column appears weekly. He can be reached at mlopresti@ibj.com.
Please enable JavaScript to view this content.