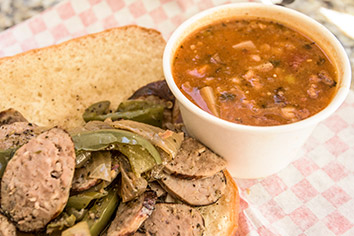 When the sandwich-shop sign went up across the street from an otherwise quiet stretch of the Cultural Trail, between IBJ headquarters and the Virginia Avenue parking garage, I expected another inconsequential lunchery catering to the needs of those who can't stray far from their desks for grab-and-go.
But I happily found that Subito (44 Virginia Ave., 220-8211) is quite different from those office-building-anchoring eateries. With a limited menu of sandwiches, creative daily specials, and a rotating calendar of soups, the hole-in-the-wall has quickly caught on with those beyond a one-block radius. I've seen whole departments lined up in the cramped, no-seating spot, which means someone liked it and got evangelical about it.
After two visits, I understand why. Not only are the salad dressings, rolls and ciabatta bread here made from scratch, but they are put in the service of eager-to-grasp choices that demonstrate care from the kitchen.
The available-every-day, well-packed Country Vegetable Soup ($6.50) will convince you that you've had your daily allotment of veggies. Nothing risky here, just warm comfort in a cup. Chicken Pot Pie, the soup of the day on another visit ($7.50, or $1.75 for an 8 ounce if ordered with a sandwich), was creamy, dense with chicken, and topped with a puffed pastry, carefully placed by the chef as if he were serving royalty. Subito knows that, if your kitchen is visible to everyone in line, you'd better show no signs of slackery.
When a place is all takeout, it carries the additional burden of ensuring that its offerings arrive at your desk or break room intact. That didn't quite happen with the Sausage and Pepper Hoagie ($8.25), as slices of mild Italian sausage and seasoned green peppers and onions didn't make much of an effort to stay in the house-baked soft role. Not having a fork in the bag would have been an annoyance if a utensil hadn't been handy back in the office. Whatever its inefficiencies as a sandwich, though, it still served as a satisfying lunch.
Even better was the Barbecue Pulled Pork ($8.50), overloaded onto its wrapping with tender pork shoulder on that same soft roll.  Don't look for coleslaw or baked beans. This is just a straight-up mound of meat well-coated with not-too-sweet barbecue sauce.
I'm no macaroni salad guy, but the ample portion provided with each sandwich had celery crunch and an easy-on-the-mayo formula that went a long way toward converting me.
Some might raise a "What? No chips?" eyebrow. To those people I say, "Go back to Subway."•
Please enable JavaScript to view this content.