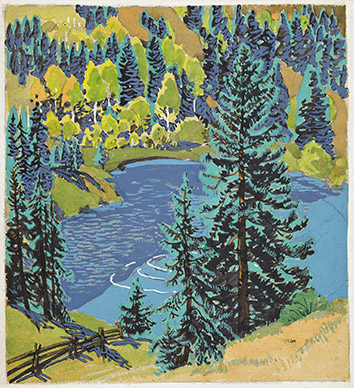 With its upcoming Cat Video Festival, outdoor "Back to the Future" extravaganza, dangling books in the entryway, and towering toys on the lawn, it's easy to overlook the fact that the Indianapolis Museum of Art has a new honest-to-goodness, stuff-hanging-on-the-wall art exhibition gracing its galleries.
The fact that its subject, printmaker Gustave Baumann, is known for a technique not necessarily understood by those outside the art world makes it even more of a challenge. How to lure patrons in from the whimsical programs elsewhere at the IMA? On my Friday afternoon visit, unfortunately, there were more guards than patrons in the galleries devoted to Baumann.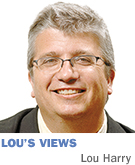 But the work deserves to be seen. "Gustave Baumann, German Craftsman—American Artist" (through Feb. 14) is extensive without feeling repetitious or overwhelming. It's instructive without being condescending. And it's peaceful without being placid.
A pioneering Brown County artist (before moving on to New York and New Mexico), Baumann specialized in woodblock printing, primarily focusing on nature scenes. The painstaking process involves carving the desired image into wood and printing off of it color by color, making the work perhaps more akin to sculpture than painting.
"[T]he easiest way is not always the most desirable," said the artist, and that philosophy is amply demonstrated in the richly textured prints of mills, woods, rutted tracks, mountains and powerful skies. The extensive exhibit tracks Baumann's gentle evolution from his thick-outlined early commercial work through his Brown County period to the artist-eye-opening explorations he captured of Taos and Santa Fe.
Explaining his process is a key element in the show. Not only are the woodblocks themselves incorporated along with the finished products, there's also a hands-on area with an on-site printmaker to demonstrate and teach (check ahead for demonstration times).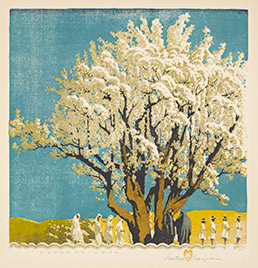 "Processional" demonstrates Gustave Baumann's careful layering of color. (Image courtesy of the Indianapolis Museum of Art)
The inclusion of marionettes—including ones of "Gus," the artist himself—adds playful perspective to the show. And there's a hint of unexplored territory in "Night Ceremony," in which bits of broken pottery images are used to create a powerful abstract.
It reminds us that, for every road an artist explores, there are ones not taken.•
__________
This column appears weekly. Send information on upcoming arts and entertainment events to lharry@ibj.com.
Please enable JavaScript to view this content.