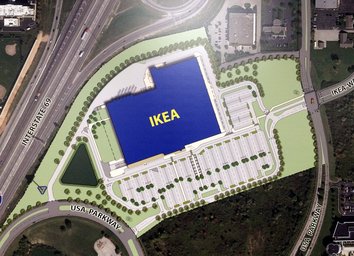 IKEA announced Tuesday it will build a 296,000-square-foot store in Fishers along USA Parkway east of Interstate 69. It is projected to open in the fall of 2017.
The more than 35-acre vacant site is within Sunbeam Development Corp.'s Exit Five Corporate Park.
The property sits to the south of 116th Street and is already zoned for a big box retailer. The Swedish home furnishings company plans to close on the purchase of the land by summer and start construction in fall of 2016.
It had been scouting the area since 2013, sources told IBJ.
About 500 construction workers will be used during the building process. The store will employ an estimated 250 workers. 


The store will be the first in Indiana. The company has 41 stores in the United States, with the nearest locations in West Chester, Ohio; Bolingbrook and Schaumburg, Illinois; Canton, Michigan; and St. Louis.
IKEA said the store will have 1,000 parking spaces, 10,000 exclusive products and 50 room settings.
"I think we're a natural fit," said Tim Monger, president and CEO of Hamilton County Economic Development Corp.
Added Brenda Myers, executive director of Hamilton County Tourism Inc.: "You cannot buy that kind of tourism exposure. We are seen as so vanilla, and this makes us look so much more hip."
The Fishers location, at 296,000 square feet, will be nearly twice the size of a typical Super Target.
IKEA stores feature arrows painted on the floor for customers to follow so they don't get lost as they weave their way through the warehouse-sized stores.
The stores also feature restaurants that offer inexpensive meals for breakfast, lunch and dinner. It carries many of the food products it serves in the restaurants, including its popular Swedish meatballs.
IKEA became the world's largest furniture retailer in 2008. The company specializes in ready-to-assemble options.
As of 2014, the company had 164,000 employees and 361 locations worldwide.
Monger said the location makes road improvements in the area even more important.
Fishers announced a $6 million project in August that will add a new eastbound lane on 116th Street from I-69 to Cumberland Road and remove the traffic signal at USA Parkway. A new traffic signal will be installed at 116th Street and Exit Five Parkway with double left turn lanes from eastbound 116th Street onto Exit Five Parkway and at Oak Drive onto 116th Street westbound.
Oak Drive also will be widened and extended south to intersect with USA Parkway.
The Indiana Department of Transportation is also working with Fishers and Hamilton County to construct a new exit at 106th Street on I-69. That project, which is expected to cost $34 million, would create a two-lane, oval-shaped roundabout on 106th Street over the interstate with ramps to and from both directions. 
Please enable JavaScript to view this content.