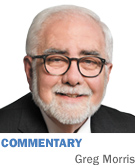 I used to work at an address in downtown Indy that was easy to get to. But these days, navigating the roads to my parking lot close to the corner of Pennsylvania and Washington streets presents quite a challenge. Because I drive my vehicle to work instead of riding a bicycle, I'm at a disadvantage. Most roads downtown are being optimized for bicycles rather than cars.
Have you driven down Pennsylvania recently between St. Clair and Washington streets? You should try it once just for grins and then you should avoid it at all costs. When I first arrived at the new, highly confusing and inconsistent lane structure, I was reminded of that engineering marvel at East 96th Street and Allisonville Road known as a Michigan left. Who the hell comes up with this stuff?
Let's take a trek down Pennsylvania Street block by block—shall we? Just past the Central Library you arrive at St. Clair Street. As you cross St. Clair, you'll notice things looking very different on your right. That's a bike lane up against the curb. You'll also notice cars parked in what looks like the middle of the road—just to the left of the bike lane. The parking areas start and stop and are bordered by areas of diagonal white lines where you're not supposed to park. If you park, be careful exiting your car into traffic and then crossing the bike lane to get to the curb so you can feed the parking meter.
Next up is North Street. If you turn right, you need to make absolutely sure nobody's in that bike lane. Between North and Michigan streets, you'll see the bike lane on your right. But there doesn't seem to be any parking in this block. Could that lane on your right be an option to pass the slow car in front of you? No, it's a right-turn only lane to get onto Michigan.
Now you're past Michigan and headed to Vermont. You've got the bike lane, more parking in the middle of the road and more stripes where you're not supposed to park. Watch that bike lane if you turn right on Vermont. Vermont to New York Street features the bike lane and more parking on your right. There's no right turn here because New York is one way east.
If you've made it this far, things really start to get hairy. Between New York and Ohio streets, you'll see the bike lane against the curb, and now there's a bus-only turn lane left of that. The bus-only turn lane merges into the bike lane. That sounds safe to me. How about you? All other vehicles can turn right onto Ohio from the lane left of the bus turn lane. What? Be sure to watch for buses, cyclists and pedestrians as you turn right on Ohio. Whew, that was a close one! When does this nightmare end?
Between Ohio and Market streets, you'll find the bike lane, some more parking in the middle of the road, and a garage entrance on your right. Additionally, watch for motorists who, like you, have absolutely no idea what lane they're supposed to be in.
If you want to turn right on Market—well, you know the drill by now. Try not to hit anybody. Isn't that Washington Street ahead? Before you get there, you'll need to navigate that pesky bike lane, vehicles parked in the middle of the road, another garage entrance, and lots of pedestrians. Then, with little warning, just three car lengths before you get to Washington, you'll be surprised to see the car right-turn lane merges into the bike lane. Watch out! A lot of bad things are going to happen at this corner.
My advice is, don't turn right onto Washington Street. You'll encounter the convergence of the bike lane that finally seems to end, the Cultural Trail (more cyclists) and one of the busiest vehicle traffic intersections in the city. The action can be insane and very dangerous.
But wait—there's more. Now let's throw in additional obstacles like deliveries to businesses, construction detours and utility repair crews just to make things more interesting. Then, let's add a big event at Bankers Life Fieldhouse and maybe some sleet, snow and slush. At this point, you don't need a parking lot. You're already in one.
Please wish me patience for my future commutes.•
__________
Morris is publisher of IBJ. His column appears every other week. To comment on this column, send e-mail to gmorris@ibj.com.
Please enable JavaScript to view this content.