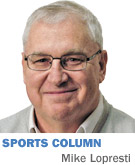 Say this about the Colts—it's never boring, routine or simple. The bye week allows time to reflect on how they've kept zigzagging between yin and yang. One minute, they're the Titanic, the next they're whipping the 7-0 Denver Broncos and everybody's happy, and the minute after that the star quarterback has a lacerated kidney.

What happens next? If only we knew.

As Matt Hasselbeck limbers up his quadragenarian arm again— he was in an NFL camp when Andrew Luck was 8 years old—we should note the schedule is at least friendlier from here. Next is Atlanta, loser of three of four. Then comes last-place Tampa Bay, Pittsburgh with an ailing Ben Roethlisberger, last-place Miami, and all three AFC South colleagues, which is like Tylenol for a headache.

Numbers to chew on: At the close of NFL business on Nov. 9, the Colts' previous four opponents were a combined 27-6. Their next seven opponents were 24-34.

The Denver game was a 60-minute defibrillator for the Colts, and the hope had been that one good day would make the blues go away and the outside noise abate. The clatter had started to sound like a 767 was parked outside the Colts complex. That would have seemed a sudden U-turn in karma, but maybe this is a season where there is no such thing as a straight road.

Then came word. Bad luck. No Luck. So the narrative keeps changing. With the Colts 4-5 and facing the stretch run—"seven one-game seasons," Chuck Pagano called it—let us inspect the difference between the old reality (OR) of when this all began in training camp in the summer, and the new reality (NR) of November.

OR: Do you think they can go to the Super Bowl?

NR: Do you think they can go 9-7?

OR: Andrew Luck keeping fantasy football players busy.

NR: Andrew Luck keeping team doctors busy.

OR: The possibilities seem vast. Hopes are high, optimism is rampant, all questions are answerable, all problems solvable.

NR: And then they played a game. Since then, a crisis a week. Sometimes two.

OR: If they get rolling with all those weapons, can anyone stop them?

NR: Times being what they have been—19th in the league in scoring, 29th in turnover margin, Luck 31st in quarterback rating—those 27 points against the Broncos felt like a touchdown explosion. They broke 30 points six times in 2014. Once so far this season.

OR: At the very minimum, another 11-5 season like all the others in the Pagano-Luck era.

NR: It's going to take an eight-game winning streak to get to 11-5.

OR: Matt Hasselbeck, seldom-seen and rarely heard backup.

NR: Matt Hasselbeck, potential Indianapolis folk hero.

OR: All those aging free agents are going to make a huge impact, and "Steve Jobs" is going to be a box-office hit.

NR: Or not.

OR: Bring on the NFL!

NR: Bring on the AFC South!

OR: Pep Hamilton, the man calling the plays as offensive coordinator.

NR: If he pulls this off, Rob Chud-zinksi for governor.

OR: The priority is absolutely, positively to keep Luck healthy.

NR: A shoulder, a rib, a kidney, an abdominal muscle. The last two are what came from his scrambling desperately for more yards in the must-have Broncos game. It was no day for sliding. But now we might not see him until December.

OR: Are they closing the gap on the New England Patriots?

NR: Can they hold off the Houston Texans?

OR: The Colts face a punting situation. No worries. With a Pro Bowler like Pat McAfee, what could possibly go wrong?

NR: Turns out, at least a couple of things. There could be a futile fake that inspires national laughter. Or a Denver touchdown return at the end of the first half, when the ball should have been punted out of bounds, aiming it toward Noblesville, and not a Bronco.

OR: Chuck Pagano, renowned for the fighting spirit of Mars.

NR: Chuck Pagano, rumored to have the seat temperature of Mercury.

OR: Most important quarterback stat—Andrew Luck is 33-15 in three years.

NR: Most important quarterback stat—Matt Hasselbeck is 2-0 this season.

OR: Pagano at training camp: "We're in a great spot and I wouldn't want to be in any other spot."

NR: Pagano lately: "We've faced a ton of adversity. You guys know it and we know it and everybody in the building knows it. ... Storms are going to come. You just don't know when."

Now we do. Can they survive it all?

"We will overcome," Pagano said. We're about to find out.

But, old reality or new, one thing hasn't changed: Bringing the A game—and the starting quarterback—in January is what counts. "The hottest team," Robert Mathis said. "That's who wins in the end."

It's all about the playoffs. First, of course, you have to get there.•

__________

Lopresti is a lifelong resident of Richmond and a graduate of Ball State University. He was a columnist for USA Today and Gannett newspapers for 31 years; he covered 34 Final Fours, 30 Super Bowls, 32 World Series and 16 Olympics. His column appears weekly. He can be reached at mlopresti@ibj.com.