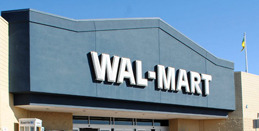 Target Corp. and Wal-Mart Stores Inc. both saw a big slowdown in online sales growth last quarter, fueling concern that the brick-and-mortar chains aren't transitioning fast enough to e-commerce.
Target's Internet sales grew 20 percent third quarter, missing the 30 percent gain it expected, the retailer said Wednesday. The previous day, Wal-Mart posted quarterly e-commerce growth of 10 percent, compared with 16 percent in the second quarter and 21 percent a year earlier.
The deceleration underscores the challenge of competing with Amazon.com Inc., the world's largest Internet retailer. Wal-Mart is spending as much as $1.5 billion this year to improve its e-commerce operations, and investors expect to see a big bump in sales. Target also has stepped up its online investments.
"If you don't get the revenue, then what kind of return are you getting?" said Brian Yarbrough, an analyst with Edward Jones & Co.
Total e-commerce sales increased 15 percent in the United States last quarter, according to the U.S. Census Bureau. Online sales accounted for 7.4 percent of total retail sales in the quarter.
Despite the slowdown, Target said it was satisfied with its online growth, especially considering that many retailers are doing worse.
"This is still an area of opportunity for us," Target Chief Financial Officer Cathy Smith said on a conference call. "We have to improve our site experience, and we are investing in that."
Target operates about 30 stores in Indiana, including a dozen in the Indianapolis area.
Wal-Mart has about 38,350 employees in Indiana at 94 supercenters, 10 distribution centers, eight discount stores, 8 neighborhood markets and 16 Sam's Club locations, according to the firm's website.
 
Please enable JavaScript to view this content.