When Dennis Murphy was 14, he went off to a boarding school to prepare to be a Catholic priest.

But the son of Irish immigrants, who grew up in Chicago with 16 cousins, decided he couldn't live life without a family of his own.

So he did the next best thing for a smart Irish Catholic kid from Chicago with a desire to serve: He went to the University of Notre Dame to prepare to be a doctor.

But as he tried to interact with doctors—most of whom were still smarting about Medicare's 1983 rollout of its payments by procedure code—he found it was the work of health care administrators that interested him most.


"That was the insight—that you could still give back, but in a different way," said Murphy, who for the past two years has been chief operating officer of Indiana University Health, the state's largest hospital system.

In April, Murphy, 51, will take over as CEO from the retiring Dan Evans, who helped IU Health grow from a single hospital with $226 million in revenue to a 19-hospital chain with revenue of nearly $5.6 billion.

Murphy lacks the garrulous personality that Evans used to hold together the Methodist and IU factions after they merged in 1997 to form what was then called Clarian Health, with Evans as board chairman. After Evans became CEO in 2002, he was an avid dealmaker, engineering mergers with 10 hospitals around the state.

But those who know Murphy say his early experiences with family, church and medicine make him exceptionally well-suited to a complex hospital system in swiftly changing times.

"He almost has a priestly demeanor," said Dr. Jay Hess, dean of the IU School of Medicine. "He's very calm and thoughtful. He doesn't get at all upset about anything. In health care, that can be really helpful."
IU Health President Dennis Murphy visited recently with Methodist Hospital nurses and doctors. As CEO, he will oversee a 19-hospital chain with $5.6 billion in revenue. (IBJ photo/Daniel Axler)
Indeed, with all of health care undergoing sweeping changes, Murphy's tenure at IU Health has seen poor morale among physicians and other staff; a unionization effort by nurses at IU Health's downtown hospitals, who alleged dangerously low staffing levels; and a controversial decision to consolidate IU Health's two adult hospitals downtown, Methodist and University.

IU Health is trying to adapt to new requirements from health care reform, to trim $1 billion in annual operating expenses, and to use lean manufacturing processes to reduce inefficiency.

Dr. Len Henry, head of surgical oncology at the IU Health hospital in Goshen, described the result as a "frenetic pace of change" and "metric terrorism."

Murphy acknowledges the pace of change has been intense, and chalks up most of the internal dissatisfaction to that fact.

"Part of this is just the adjustment period," he said, sitting in his office on the top floor of Fairbanks Hall, the headquarters of both IU Health and the IU School of Medicine, at the head of the Central Canal downtown. "It's a lot of change for them to digest."

Murphy expects more to come.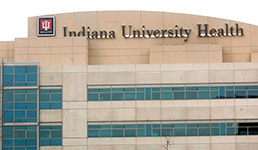 Dennis Murphy is taking the reins of IU Health at a tumultuous time for the health care industry. The hospital system is adapting by trimming $1 billion in annual expenses. (IBJ file photo)
Three changes could all reduce the amount of money IU Health gets paid: the growth of the Obamacare exchanges, where the health insurance policies pay less than employer-based policies; the pending Anthem-Cigna merger, which would likely convert Cigna's higher-paying rates over to Anthem's lower rates; and the Obamacare Cadillac tax, which could lead to less spending on health benefits by employers.

An even bigger challenge is that IU Health is at a point where it needs to make 50-year upgrades at two hospital campuses—even while the health care system as a whole is shifting so that fewer patients come to big facilities for care but instead are reached near or even in their homes.

"That kind of challenge is what you as a health care leader have to face," Murphy said.

Facing obstacles

Murphy, however, isn't one to complain.

As a teenager, he often had to cook his own meals and clean his own laundry during his years at St. Lawrence Seminary High School and during summers working on his relatives' farm in Ireland.

In the year after joining IU Health in July 2013, he put 40,000 miles on his car commuting from Chicago so his eldest son could finish high school. (Some of the miles were logged traveling to IU Health's 19 hospitals and myriad outpatient facilities around the state.)

He now lives in Westfield with his wife, Kristy, and two of their three kids. His eldest son attends the University of Iowa.

In August 2014, Murphy tripped and fell one morning while walking and texting on his phone in Fairbanks Hall. He caught himself on his elbow, but broke his arm in seven places.

He was taken to the Methodist Hospital emergency room, had 40 pieces of metal inserted into his arm, and went through nine months of physical therapy.

But Hess, the medical school dean, can't remember Murphy complaining about it during the whole time.

When faced with so much change in health care, Murphy thinks back to something he learned at the very start of his career, during a two-year administration fellowship at Johns Hopkins Hospital.

That fellowship was led by Steve Lipstein, who is now CEO of the BJC HealthCare system in St. Louis, and who Murphy still consults as a mentor.

As Murphy did stints in all parts of the Johns Hopkins system—with nurses, with finance, with human resources—Lipstein stressed that, regardless of the details, the fundamentals always made the difference: high-quality care, patient satisfaction and holding down costs.

"If you just do those three things really well, the rest will sort itself out," Murphy said.

Murphy spent 10 years at Johns Hopkins before Lipstein, who was hired as executive vice president of the University of Chicago hospital system, lured Murphy back to his hometown.

"Dennis is first rate, a leader of many talents," Lipstein said in an email. "IU Health is fortunate to have him, as Dennis is equally fortunate to lead such an accomplished health system."

The task Lipstein gave Murphy in Chicago was to turn around a money-losing community hospital, Weiss Memorial. He had to renegotiate a series of physician employment contracts that were bleeding cash.

Murphy said he now leans heavily on that experience, which hammered home the differences between community hospitals and the academic medical centers, where Murphy has spent most of his career.

"You learn something everywhere you are," he said.

Lipstein left for St. Louis, but Murphy decided to stay home. In 2000, he joined Northwestern Memorial HealthCare, the health care affiliate of the Northwestern University School of Medicine.

Murphy played a role in Northwestern's improving its clinical outcomes, as well as launching a process-improvement initiative in 2006—much like IU Health did in 2012. Murphy also oversaw the planning, construction and opening of a women's hospital in 2007—which is the third-largest birthing center in the nation.

"He doesn't have any true clinical background, but he really understood the bases of medicine incredibly well," said Dr. Gary Noskin, chief of medicine at Northwestern Memorial. "It's unusual in someone who is not a clinician."

Noskin described Murphy as dependable, a good listener, and someone who, although quiet, has an enthusiasm about health care that inspires others.

"People would view him as a friend even if they weren't close personal friends with him," Noskin said. "He possesses that type of warmth."

Noskin also remembers Murphy as competitive. That came out one year at an annual leadership retreat, where a team-building exercise required each team to use a golf cart to find items on a scavenger hunt.

Murphy, who ran sub-4-minute miles during a brief stint on the Notre Dame track team and still runs often, figured out he could run faster than the golf carts could drive. So that's what he did to get an edge on his co-administrators.

"Everyone here knew that Dennis was an incredible talent and he was going to become a CEO of a health system," Noskin said.

Healthier Hoosiers

As Murphy has worked with Hess to develop goals for his tenure as CEO, top on the list has nothing to do with the health of IU Health. Rather, his top focus is on improving the health of Hoosiers.

Murphy is hardly the first health care executive to say such things. But with research showing that health care affects only 10 percent to 15 percent of a person's overall health, doctors and hospitals have limited impact.

Murphy acknowledges that any single health care system—even one with IU Health's 30 percent statewide market share—can't improve overall health by itself. But he does think IU Health's size, as well as Indiana University's role training the majority of doctors and nurses in the state, gives IU Health a key role to play.

"It doesn't give you the ability to directly impact those things, but it allows you the ability to be the convener," Murphy said.

He has spent significant time the past two years talking to other hospital system leaders, public officials and health-related groups to try to build a coalition focused on improving health. Specific goals include reducing infant mortality rates, suicide rates and smoking. Hess also mentioned obesity and diabetes.

Murphy thinks health status is the next key frontier in improving Indiana's economy.

"We've created an infrastructure as a state to attract businesses. The next thing is the health of the workforce," he said.

"It's not just low taxes. It's not just receptive laws. It's, what's the state of the workforce?"•