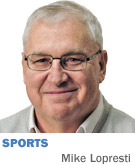 Here comes another Old Oaken Bucket game. Sigh.
Perhaps you've noticed, it's been another trying autumn up Interstate 65 and down State Road 37. As this is being written, one team is 2-8, the other has lost six in a row, including three by a touchdown each to ranked opponents. Let's hear it for Purtwo, and Indi-almost. Throw in Ball State's 3-8 record, and central Indiana's three FBS teams remind you of the Bermuda Triangle.
So the trophy game will again be a little light on national glitter. How's the cliche go? If only the Old Oaken Bucket could talk …
Not hard to guess just what it would have to say.    
"C'mon, guys. Pick it up a little. This is my 90th birthday as your trophy, and you're both showing up with losing records? Again? You know how often lately you've both been over .500 on my big day? Twice, in the past 35 years. Twice.  
"If Auburn and Alabama played for me, I'd be on ESPN all the time. Lee Corso would fondle me. (Just like he did when he won his last Bucket game as Indiana coach, three days before they fired him, but that's a story for another day.) If I were the prize for Michigan and Ohio State, I'd have seen more roses than Valentine's Day. Mississippi and Mississippi State get more ink, and look what they play for. I'm taking back seat to an egg.
"I wonder if I'm even worth stealing anymore. Plus, the Big Ten's bright idea to play the Saturday after Thanksgiving really fries my moss. The students have all fled campus, and by then, I get lost in the early basketball discussion. Who has time for me, when they're eager to see how Thomas Bryant and Caleb Swanigan are doing? 
"It's not that I'm unsympathetic. I feel your pain. Take you, Indiana. If only close counted. You should play horseshoes. You've had ranked teams cornered all fall, and they keep slipping away. Maybe if the defense didn't leak like an old barn roof. What was it Kevin Wilson said the other day? 'We don't think it's bad luck or karma. We've got to get playing and get better because it's not what we want.'
"Same here.
"Or you, Purdue. You've had promising moments, just not many wins. Too bad the record can't read W-L-PM. 'You got to find a way to win some of those close football games, which helps to flip the program,' Darrell Hazell said.
"For now, consider yourself unflipped.
"So every November when we all get together, it's a reminder of how hard and unstable the times have been. Purdue, you've had two basketball coaches in 35 years. And seven football coaches. Indiana, you've had six men as head basketball coach (not counting interims) in 70 seasons. And six men as head football coach in 20 seasons.
"Or look at the Big Ten record. Through the games of Nov. 14, you two were 6-38 in the league the past three seasons. Gulp. Purdue, you're 4-5 the past seven years—against the Mid-American Conference. Indiana, you've given up 40-plus points in 16 of your last 34 games. That's why there are those out there calling for heads, but I don't call talk shows and I don't try to fire coaches.
"Yeah, I know—this is considered a basketball state, though that has changed some, with a kid named Peyton on every other block. But I know basketball schools when I see them. Kentucky has won 46 SEC titles in basketball, and two in football. Kansas has two remarkable streaks going—11 consecutive Big 12 titles in basketball, and 35 consecutive road losses in football. Duke has finished in the Associated Press top 10 in basketball eight consecutive seasons; Duke football hasn't been ranked in the top 10 since 1962.
"Indiana, you've won five basketball national championships—and three bowl games. I'm 90, and I've seen Purdue in two Rose Bowls. Indiana in one.
"I know everyone still plays hard on my behalf. It might not be nationally significant to win me, but in this state, it still feels lousy to lose me. If Purdue is beaten again, it'll be the first time I have spent three consecutive years away from West Lafayette since 1947.
"Plus, as I speak, Indiana still has postseason hopes, if it wins at Maryland. That would put the Hoosiers' bowl chances on the line Nov. 28 in Ross-Ade Stadium. I could use the extra incentive.
"By the way, last time I checked, Purdue has the No. 97 rated scoring offense in the nation, Indiana the No. 116 rated scoring defense. Quite a showdown for me. The resistible force against the movable object. I just hope it's close, like last year. If I have to take the chance of freezing my chain links off, I at least want a good game.
"And one of these days, maybe there'll even be a Bucket weekend with two winning teams. I'm not holding my water, but one day. Promise?"•
__________
Lopresti is a lifelong resident of Richmond and a graduate of Ball State University. He was a columnist for USA Today and Gannett newspapers for 31 years; he covered 34 Final Fours, 30 Super Bowls, 32 World Series and 16 Olympics. His column appears weekly. He can be reached at mlopresti@ibj.com.
Please enable JavaScript to view this content.