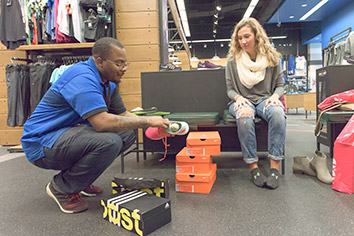 Indiana's publicly traded retailers are hoping a strong holiday shopping season will allow them to finish out with a flourish what's been a bruising 2015.
Finish Line Inc. CEO Glenn Lyon acknowledged in a late September conference call that it's time for the Indianapolis-based athletic shoe and apparel retailer "to put up or shut up" after disappointing investors with an execution stumble earlier in the year.
The chain expects to get a holiday-sales boost from the recent launch of Under Armour's Curry Two basketball shoe, named for Golden State Warriors superstar Stephen Curry, and the December rollout of an exclusive running-shoe partnership with the shoe and apparel maker.
Lyon
Lyon said those represent the "cornerstone of the most aggressive marketing plan for the holiday season we have ever had with Under Armour."
Meanwhile, the struggling Indianapolis-based electronics and appliance retailer HHGregg has high hopes for inexpensive 4K TVs, which boast curved screens and a picture with four times the resolution of a typical high-definition TV.

May
"We did our second annual shopping survey, and 4K televisions were the highest-scoring gift in our survey, beating out laptops, tablets and smart watches," CEO Dennis May told IBJ. "That speaks to the strength in how much interest there is in 4K TVs this holiday."
And Evansville-based Shoe Carnival Inc., whose most important season is back to school, is hoping its solid fall performance will continue through year-end—in part by getting a boost from boots.
Same-store sales of boots increased by a double-digit percentage in the quarter ended Aug. 1, CEO Clifton Sifford said on a September conference call, "so that gives us some reason to be positive about the fourth quarter."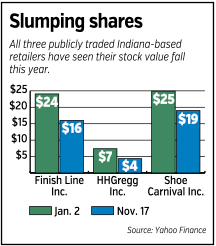 Low unemployment and cheap gas might have consumers primed to spend this holiday season, retailer experts say.
"Add lower consumer debt to the mix, and this season's potential is particularly strong," said Richard Feinberg, a Purdue University professor of retail management.
He said retailers should expect 5 percent to 7 percent increases over 2015. Other forecasters are similarly bullish, with the National Retail Federation and the Cushman & Wakefield real estate firm both predicting 4 percent increases.
The forecasts are welcome news for Indiana's publicly traded retailers, whose shares have all badly underperformed the overall market in 2015.
Finish Line shares tumbled 20 percent on a single day in September, crushed by disappointing sales caused partly by delays in getting hot new men's running shoes on the shelves fast enough. The stock, now trading at just under $16 a share, is off 35 percent for the year.
HHGregg is on a multiyear quest to shuffle its product mix to adapt to a sharp drop in consumer electronics sales. Its shares are trading at about $3.90, down 48 percent in 2015.
Shoe Carnival—which trades at around $18.50, down 28 percent in 2015—saw its shares rise as high as $30 in June. However, since then the stock has trended down, fueled by a series of analyst downgrades—including one from Northcoast Research's Jeff Stein indicating that his "channel checks" suggested sales are soft.

Simon
In general, major retailers' enthusiasm going into the holidays is tempered by weak growth in the economy, David Simon, CEO of Simon Property Group Inc., the nation's largest shopping mall owner, said on a late October conference call.
"Look, the fact is our GDP growth is anemic. We are growing our general economy at 2 percent [or] below. I think retail can't avoid that fact."
However, he added, "the good news is, we outperform that" because Simon malls cater primarily to higher-end consumers.
HHGregg is aiming to come out of the gate strong with an aggressive Black Friday strategy. For the second time, it will open on Thanksgiving. Doors will open at 4 p.m. and close at midnight.
Purdue's Feinberg said online shopping will loom large again this year. He said this might be the year online sales, which have been running at about 9 percent of the total, crack 10 percent.
He said even consumers who buy in stores spend significant time researching purchases online. He said websites influence about 60 percent of all holiday purchases.
Simon said tech-savvy millennials, despite their reliance on smartphones, still prefer shopping in stores.
"They are comfortable with the mall environment and, as their income grows and as they age and have kids, I think they will be loyal mall shoppers," he said, "especially given the environments we are creating."•
 
Please enable JavaScript to view this content.