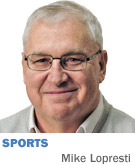 The college football championship game is the iPhone 6 of sports events—the hot new creation everyone wants to have. Here are all the places hosting it, or trying to. Raise your hand when you recognize the city conspicuous by its absence.

Glendale, Arizona, this coming January. Then, Tampa; Atlanta; Santa Clara, California; and New Orleans. That takes us through 2020. Charlotte, Detroit, Houston, San Antonio and Minneapolis were among those in on the bidding chase.

OK, all together now: WHERE'S INDIANAPOLIS?

Biding its time. But not for much longer.

"It's something we're very excited about," said Ryan Vaughn, president of Indiana Sports Corp. "The last bid cycle came on us pretty quickly. We had a lot of other obligations that really made it difficult for us to competitively bid. We're looking forward to the next cycle. It's a great opportunity for us to get back on the national stage, like the Super Bowl.

"We'll be a serious part of that conversation, to be sure."

In other words, next time the College Football Playoff folks ask who's interested in hosting their party, Indy will likely be in line. And when it comes to premier sports events, what this city wants, it usually gets. Eventually. With the fifth Big Ten football championship game in town, it's a good week to remember that.

Still, things are getting more complicated.

For one, the competition is thickening. Indy lost out to Minneapolis for a northern-tier Super Bowl. A bunch of Roman numerals will probably come and go before the next chance. The Big Ten has gone all gaga over the East Coast for its conference basketball tournament, moving to Washington, D.C., in 2017 and New York in 2018. Indianapolis routinely earns raves as a Final Four city—except when the Legislature gets in the way—but that event is not slated to reappear in this ZIP code again until 2021, as the NCAA dabbles in new places such as Phoenix. For Indianapolis, it's like waiting for Halley's Comet to come back.

"A lot of other cities around the country have seen the success this city has had, and candidly what other cities have had," Vaughn said, recognizing how the bandwagon of potential hosts is growing. "So it's more competitive. That said, I feel really good about our ability to compete."

There is, indeed, something to be said for a track record. Indianapolis hosts sports events like a pond hosts ducks.

But there is also the fallout from last spring's Religious Freedom Restoration Act, which broke like a severe thunderstorm on the eve of the Final Four. The NCAA fired off a communique recently that it is willing to reconsider a host city ex post facto, should there be any discomfort over legislation deemed discriminatory.

So imagine the 2021 Final Four being yanked away from Indianapolis, like Lucy pulls the football out from beneath Charlie Brown.

"We've been in communication with the NCAA, and I feel very good with our relationship," Vaughn said. "Certainly, they were distressed—as they expressed—when the RFRA legislation was adopted. But they were equally as expressive about how happy they were when it was resolved.

"I could appreciate [the recent NCAA] statement, but I would feel very comfortable with the NCAA taking another look at us, relative to other states."

Vaughn said Indiana Sports Corp. still has to educate potential visitors as to how Indiana responded to the controversy. "I sense it ebbs and flows," he said. But any new legislative moves means the Sports Corp. will be getting more questions.

Still, things look good. The Big Ten championship game should be, in effect, a quarterfinal for the playoffs. It's become a big draw for free-spending visitors downtown.

"The restaurants will tell you more beer gets drunk that weekend than any other weekend of the year," Vaughn said. And Iowa brings a horde to its big away games.

"Every week after Iowa wins, our phones go crazy. They're committed, and excited to come," Vaughn said.

"And," chipped in Sports Corp. Vice President Susan Baughman, "they have RVs." Fleets of 'em. So the Hawkeyes should be a real boon for the RV Nation that Indianapolis puts together as part of the weekend festivities.

Big stuff. But there is a new plum on the national sports tree, and Indianapolis wants it one day.

Won't be cheap. Some of the last cities to bid for the college football championship game coughed up a reported $13 million. So Indy will need more than a piggy bank.

"Your bid has a lot of competitive elements," Vaughn said. "One of them is how much financially you're willing to put forward. Another is what you're doing locally to make it attractive. I think our history would suggest, whether it be the Super Bowl or other major events, we add a lot of value that makes our bids very competitive.

"Certainly it will take several million dollars, but as a community, we can go raise that privately. It doesn't give me pause, because it's a really cool and unique asset like the Super Bowl that we can bring to the city. I'm very confident the return on that investment is going to be greater than the investment itself. But it just takes time to get there."

So this week, Iowa vs. (probably) Michigan State on Capitol Avenue. One day, Alabama vs. Oklahoma?•

__________

Lopresti is a lifelong resident of Richmond and a graduate of Ball State University. He was a columnist for USA Today and Gannett newspapers for 31 years; he covered 34 Final Fours, 30 Super Bowls, 32 World Series and 16 Olympics. His column appears weekly. He can be reached at mlopresti@ibj.com.