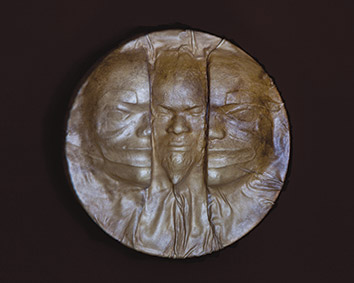 The Eiteljorg Museum of American Indians and Western Art's latest biennial fellowship show, "Conversations" (through Feb. 28), resonates as past and present collide in the works of five selected artists.
That collision is most blatant in the work of Da-ka-xeen Mehner, who has crafted walls of drum heads with self-portrait faces pushing outward, seemingly unable to fully escape. Or are they voices from the past instructing the here and now?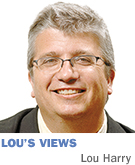 Onto some of these are projected images—waves, mountains and, most intensely, Mehner's chanting features. Carrying over into the rest of the show, his voice becomes the soundtrack for not just this piece, but those throughout the gallery (an enhancement in some cases, a distraction in others).
Holly Wilson's bronze figures, on the other hand, are cryptic in their silence. The young girl balanced on an extended branch surrounded by birds (seemingly multiplied by their shadows) in "Secrets are Burdens" and staring forlornly away from us in "Should I Stay or Should I Go" seems to carry the weight of private stories and experience. The youthful masked figure in "Rider," holding on with one hand while riding a branch, carries an expression open to interpretation as well. (While it works fine on its own, make sure to read the charming story that accompanies "Rider.")
 
Holly Wilson's Masked is made of bronze and African mahogany. (Photo courtesy of The Eiteljorg Museum of American Indians and Western Art)
Mario Martinez's works on canvas—using acrylics, charcoal and prismcolor pencils—seem to exist in a biological-based dream state, while Brenda Mallory uses more tactile materials—rice paper, nuts, bolts, waxed cloth—to explore identity. From a distance, her "Undulations (Red)" and "Reformed Order" seem to be uniform pieces built from identical smaller elements. Closer inspection, though, reveals their individuality.
The boldest of the work in the show comes from Luzene Hill. Your experience with some of it will depend on when you visit—not just when in the day but when in the run of the show.
"Retracing the Trace" uses traditional knotted cords surrounding the outline of a body on the floor. The image is strong as it is—a crime scene as art. But it's made more temporary—and more haunting—by the process and the backstory. Each numbered cord represents one of the estimated unreported rapes in the United States each day. The artist, who was raped in 1994, said of the work, "Accepting vulnerability—courting it—embracing it—for me—is essential in order to make art."
The cords carry meaning, too. Traditionally used for accounting and storytelling, they will be moved a few at a time and attached to areas of the wall, essentially dismantling—or rendering invisible—the crime hinted at by the floor display.
Past fellowship shows have served to increase the museum's world-class collection of Native American contemporary art. No doubt some of these pieces will find a permanent home here. The fellowship also has awarded a total of more than $1 million in direct support to artists, helping ensure the continued creation of such challenging, worthwhile work.•
__________
This column appears weekly. Send information on upcoming arts and entertainment events to lharry@ibj.com.
Please enable JavaScript to view this content.