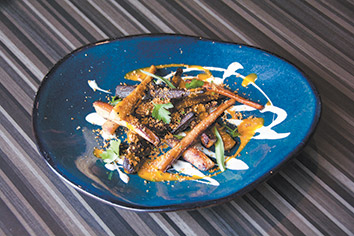 While Fountain Square has no shortage of good places to eat, those places—as solid as many of them are—have tended to be eateries where there's little gap between what you read on the menu and what comes out of the kitchen.
Newcomer Pioneer (1110 Shelby St., 986-6761), housed in what used to be Deano's Vino, doesn't quite fit that mold as it celebrates the food of northeastern Italy and its Alpine neighbors.
Take the Carrots ($10), for instance. Order such an offering elsewhere and you would expect, well, carrots. At Pioneer, you could almost mistake what arrives on the table for a pile of good French fries or sweet potato fries. In the mix: yogurt, brown butter carrot jus, fermented bruleed onions, bread crumbs and herbs. The result is firm enough while still being able to melt away in the mouth, with bread crumbs surprisingly important as a texture and flavor, creating a crunch you don't expect.
Kale-flecked and squash-enhanced Spatzle ($10) was light—well, as far as carb dishes go—and compulsively sharable. Chicken Salad ($11) also might seem familiar. But here it falls in the tartines portion of the menu. Basically, a tartine is an open-faced sandwich (which, in my view, doesn't make it a sandwich at all. But that's beside the point).
Here, dressed with garlic aioli, capers, celery, onion and watercress, it cries out freshness. The chicken tasted and felt like actual chicken, rather than the pre-cubed pieces so often served in chicken salad. The celery and onion gave it a nice crispiness and flavor, and the garlic aioli was subtle—perhaps too subtle. A little more garlic flavor would have been welcomed.
The open-faced sandwich was served on a piece of bread that was toasted enough to keep it from getting soggy but not so much that it was a distraction from the salad. The capers were not as flavorful as I had hoped. I had expected snappy little bombs of flavor and instead got something more like a cooked pea. The potato salad on the side had nice big chunks of everything, and you could taste just enough mustard.
The highlight of the meal, though, was the Beets ($8), delicious pickled veggies accented with pear, pickled and fried onion, and arugula. Prepare for a fight over the last bite. Apple Strudel ($9) was a bit on the skimpy side, but each bite of the cinnamon-sugar-and-caramel-dressed dessert proved a pleasure.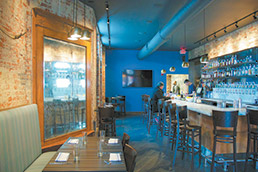 The former Deano's Vino on Shelby Street in Fountain Square has been transformed into the upscale eatery Pioneer, which serves food from northeastern Italy. (IBJ photo/Daniel Axler)
On our lunch visit, we were among the only customers in the place. Granted, it had been serving lunch only a few weeks, but when diners are sparse, it's tough to get a sense of atmosphere or tone of service. Still, as an anchor at a central intersection—and with a raised stage, windows overlooking the fountain and the outdoor plaza, and plenty of seating both in the dining room and at the bar—it's clear that Pioneer is primed to help redefine Fountain Square.
It will be interesting to see what happens when it starts filling with music—and patrons.•
Please enable JavaScript to view this content.