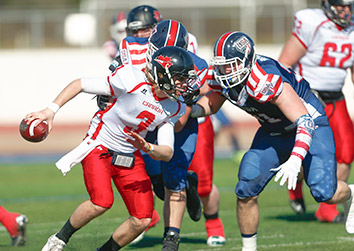 With the adoption of USA Football into the U.S. Olympic Committee family this month, American football is one step closer to becoming an Olympic sport.
If that goal line is crossed—as some think it could be as early as 2024—it would open unprecedented opportunities for the U.S.-born sport in foreign markets and could mean tens of millions of additional dollars annually for the National Football League and its teams, including the Indianapolis Colts.
The USOC on Nov. 9 agreed to make Indianapolis-based USA Football part of its Multi-Sport Organization Council, a group of sport, education and community-based member institutions that also includes the NCAA and the National Federation of State High School Associations, two organizations also based in Indianapolis.
What the ground-breaking step means in the short term is that USA Football officials get to attend various USOC meetings with national governing bodies for myriad sports, including many that already have Olympic status.

Alic
"This provides USA Football the opportunity to share and learn best practices and to show how Olympic values are woven into USA Football programs," said the group's spokesman, Steve Alic.
The new affiliation also means USA Football officials will have opportunities to network and make a case for why American football should be in the Olympics.
"This is the first time an institution representing American football has achieved USOC recognition," Alic said. "So it's an important milestone for a variety of reasons."
Mark Waller, the NFL's executive vice president of international, said league officials welcome the prospect of football's appearing at the Olympics, because "it would be good for the sport." Already, NFL officials said, they and other advocates have met with Olympic officials about the possibility.
The NFL has been trying to raise its brand awareness internationally for decades, first with NFL Europe—which folded in 2007 after a 16-year run—then with a number of regular-season games in locales like Mexico City and London. Next year, the Colts will play the Jacksonville Jaguars on Oct. 2 at Wembley Stadium in London.
Sports marketers think the Olympics offer a far greater international platform for both USA Football and the NFL.

Brown
"One of the best ways to get international exposure for any sport is through the Olympics," said Zak Brown, CEO of Chime Sports Marketing, a London-based global sports marketing firm. "Everybody internationally understands the Olympic brand and what the event is all about. It's simply a platform like no other."
As popular as American football—and the NFL in particular—is in the United States, Brown, a former Indianapolis-based motorsports marketing executive now living in London, said it's not known well internationally outside of England and parts of Germany.
"The kind of international growth that inclusion in the Olympics would drive could double the profitability of the [NFL] teams within 20 years," Brown said. "They've reached almost total market saturation in the U.S., but there are lots of untapped markets overseas—and big untapped markets."
By merely growing its fan base in India from its current 2 percent to 4 percent, for example, the NFL could add 10 million fans, more than the entire New York City market.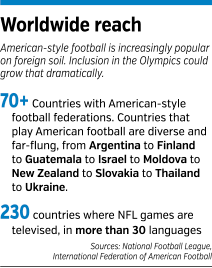 Big potential score
Doubling teams' profitability would be no small gain. NFL financial documents released as a result of a lawsuit filed by then-Oakland Raiders owner Al Davis showed average team profit in 1999 was $11.6 million. Sources close to the league said those profits have more than tripled since then.
Teams like the Colts would see massive growth in broadcast, sponsorship and merchandise revenue globally if American football is afforded the opportunity to promote itself through the Olympics, said Brown, who remains executive chairman of Zionsville-based Just Marketing International.
"The sponsorship opportunities alone involved in the type of elevated branding the Olympics can bring would be tremendous," he said.
He added that USA Football—as the operator of the national team—also would see a considerable increase in sponsorship and other revenue.
USA Football is an independent not-for-profit that serves as the national governing body for amateur American football, but it is closely affiliated with the NFL.
USA Football was endowed by the NFL and the NFL Players Association in 2002 and has helped promote the game internationally, including assembling U.S. national teams for competitions conducted by the International Federation of American Football. USA Football also has programs that help grow the sport domestically at the grass-roots level.
The federation is in the process of attaining full membership in the International Olympic Committee, meaning it could potentially bid to become part of the Olympic program as early as 2024. That bid would take place in 2017.
Not everyone thinks including football in the Olympics is a good idea. Some say it's simply too American, though the inclusion of American-made basketball would tend to put a dent in that argument. Others say the sport is too rough, though rugby's inclusion in the 2016 Olympics makes that argument a head-scratcher.
IOC President Thomas Bach told reporters at last year's Super Bowl that American football currently lacks the global reach to become an Olympic sport.
Olympic sports "must have a broad international representation," he told reporters in February. "This I cannot see in football. It's a very American sport."

Ward
Indianapolis Colts Chief Operating Officer Pete Ward disagrees and says a growing global "grass-roots effort" to get American football included in the Olympics is one sign of the sport's growing reach.
"There's clearly a movement afoot," Ward said. "And it's not just coming from the U.S. It's coming from many of the 70-plus American football federations around the world."
Dramatic growth
There does seem to be evidence that the global popularity of American football is growing.
Last season's Super Bowl was televised in 230 countries in more than 30 languages—a high-water mark for the game. Leagues and national teams are cropping up in countries small and large including Argentina, Estonia, Finland, Japan, South Korea and Turkey, according to the international federation.
An independent study done by global sports and entertainment research firm Repucom earlier this year found the popularity of American football—and the NFL in particular—is growing in almost every country worldwide.
Some of that growth has been dramatic. For instance, the popularity of the sport in Russia has grown 5.3 percentage points alone, according to Repucom. Now, 13.3 percent of Russian citizens say they're American football fans. Since 2013, interest in the NFL among China's residents has jumped from 1.7 percent to 7.9 percent, according to Repucom. That jump of just over 6 percentage points is the equivalent of an additional 31 million people who are now NFL fans.
And more than 10 percent of citizens in England, Japan, Italy, Australia and Singapore consider themselves NFL-style football fans, according to Repucom's study.
"TV has been a great asset for the NFL in terms of global growth," Ward said. "Many of those countries can now see games either live or tape-delayed."
One big reason football would make a good Olympic sport, he added, is that "it's made for TV."
"It's dramatic, exciting, explosive and full of strategy," Ward said.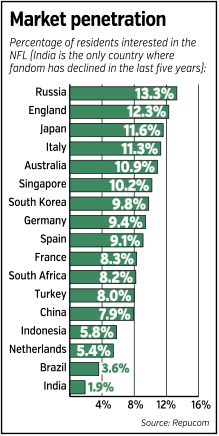 Obstacles
But even football supporters like Ward admit there are barriers to American football's becoming an Olympic sport.
The sport requires a large number of players. While NFL teams have 53-man rosters, an Olympic team playing far fewer games would likely need fewer players. Still, most people think at least 35 to 45 would be necessary. Funding a team that big in such an equipment-intensive sport would be expensive. And the total number of football players descending on the Olympics could tax the games' support structure, including the Olympic Village where many athletes stay.
It might also be tough, Ward said, to get enough games played over the three weeks the Olympics is typically held. Soccer and other sports use a type of round-robin tournament with a medal round.
Typically, U.S. college and NFL teams have a week off between games, a schedule that might be impossible for the Olympics. Teams in the international federation tournament often play every three days and shuttle between two rosters to keep players from getting too beaten up.
There's also a question of competitive balance. With more than 25 positions needed to compose a football team and a complex set of rules, there has been great disparity between teams at each of the five federation World Championships, which are played every four years.
USA beat France at this summer's World Championships 82-0, then beat Japan in the gold medal game 59-12. The tournament's 12 games were decided by an average margin of 33.3 points, with only two decided by 20 or fewer points.
With few women playing tackle football, there also could be a gender-equity issue. Bach, the IOC president, suggested early this year that flag—not tackle—football could become an Olympic sport.
Brown, the sports marketer, scoffed at that idea. "It's got to be real, NFL-style American football," Brown said. "That's where the big names are and it's what people are familiar with. Tackle football is the attention driver."•
Please enable JavaScript to view this content.