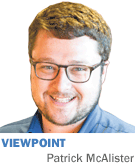 In his victory speech, Mayor-elect Joe Hogsett identified recruitment and retention of top teaching talent as one of his administration's top priorities. That's a smart move—great teachers are the primary force to help close the opportunity gap for students in our city.
Financial incentives, like fair compensation and Hogsett's proposal for educator housing support, are part of the equation when it comes to recruiting and retaining talent. To keep great teachers in our classrooms, though, they must be decision-makers in their schools, see clear career pathways and room for advancement, routinely receive recognition for their amazing work, and take on increasing responsibility as they advance in their careers.
As the leader of a city with 11 districts, and as authorizer of dozens of public charter schools, Hogsett will have a key role in helping us set a collective vision for what teacher leadership in Indianapolis might look like. Here are some suggestions:
• Invest in developing teacher leaders. Modern public schools require highly skilled educators trained in peer support. Teaching students and supporting the development of adults are two different skill sets. In the new teacher contract, Indianapolis Public Schools set aside $1.5 million to spend on stipends for new teacher leadership roles. This was a forward-thinking step. As individual schools are empowered to make more and more decisions, school leaders will need to rely more and more on highly skilled teacher leaders who know how to do both.
In IPS, amazing teachers, like Hubbard Award finalist and T3 Teacher Leader Melissa Scherle, are already stepping into leadership roles. Melissa led her second-grade team to completely revamp its approach to reading, based on assessment data. All the second-graders at Washington Irving School 14—not just Melissa's classroom—had the second-highest average literacy growth in the entire district, with students progressing about two years, on average. All students deserve teams with teacher leaders like Melissa.
Teacher leadership innovation is not confined to IPS. Township schools in Marion County have adopted evaluation systems that take into account great teachers supporting their peers in professional growth. The county's lean, high-functioning public charter schools rely on experienced, goal-oriented teacher leaders to improve student outcomes. IPS should follow suit and identify opportunities for school leaders to distribute more responsibility among teachers who show a capacity to lead, and support those teachers in developing those leadership skills.
• Leverage economies of scale to build a citywide network of teacher professional learning. This May, teachers in my organization, Teach Plus, surveyed 319 Marion County teachers to understand the current landscape of teacher professional development in our city. They found that teachers in Indianapolis want differentiated and ongoing professional learning that is focused on their individual needs and taught by expert local teachers. They also found that, while Indy schools spend almost $12 million annually on professional learning, teachers can't identify tangible benefits from the development.
We now have an opportunity to leverage those wasted resources to design a system that works. We can train talented teachers to deliver professional learning in a subject area of their expertise. Best of all, we would be paying our talented teachers to develop their fellow educators.
Hogsett's administration has an unparalleled opportunity to make Indianapolis the city where top teacher talent wants to work. A significant, citywide investment in teacher leadership will help build a pipeline of talented teachers to lead the dynamic schools our kids deserve.•
__________
Patrick McAlister is a former teacher and the director of policy for Teach Plus—Indianapolis.
 
Please enable JavaScript to view this content.