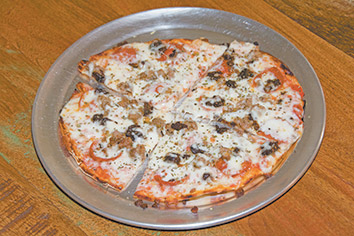 If you've ordered from the window of Byrne's Grilled Pizza's food truck, you should have a pretty good idea what to expect at its new brick and mortar location (5615 N. Illinois St., 737-2056) in the former site of the awkwardly named Oh Yumm! Bistro. In the transition from wheels to walls, Byrne's has stuck to what it knows best, with a limited menu of primarily pizzas, salads and what it calls stromboli.
Let's get that out of the way first. I'll never get used to the idea some have that a stromboli is the same thing as an open-faced sandwich. A stromboli, by definition, is enclosed—ideally stuffed and rolled. Just search Google Images and you'll see loads of them—plus an occasional volcano because of its namesake Italian island.
Don't get me wrong. The Vegalicious Stromboli ($9) at Byrne's is fresh and full of flavor. It's loaded with spinach, tomato, bell and banana peppers, onions, mushrooms, and a combo of mozzarella and asiago cheeses. It just isn't what I'd call a stromboli. You can, as I did, fold it over and make a strong sandwich, though.
Pizza, on the other hand, can be many things. In Byrne's case, it's built on a crispy, thick crust with clear signs of char from the grill. It's lightly coated with red sauce and cheese and topped appropriately without overwhelming.
 
Byrne's Grilled Pizza transitions smoothly from food truck to sit-down eatery. (IBJ photo/Daniel Axler)
You might guess what the P and the S stand for in the P.B.S. ($10, $21.50)—just think traditional pizza toppings. But the surprise is the B—Smoking Goose's jowl bacon. I appreciated that the combination of pepperoni discs, irregular chunks of ground sausage, and chewy bacon bites didn't overwhelm the pie. And it's refreshing to have a meat-topped pie that aims for subtlety. I also tried the Cheesus ($10, $21.50), which replaces the red with a white sauce and artfully blends the mozzarella/asiago mix with feta and ricotta.
Additional variations include the historically confused Pocahontas Mexican Pizza (which includes crushed Fritos), the Californian (which, oddly, has bacon as well as the spinach and avocado one might expect), and the Byrne's Specialty (with pesto, artichoke hearts and ricotta).
With thicker-crust pizza, breadsticks can be redundant. But here, the doughy, hand-rolled versions (two and a sauce for $3, four and two sauces for $5) contrast nicely with the crisp crust of the pizza.
Byrne's menu and website don't give a clear idea that Byrne's has a dining room. But it does, complete with a large-screen TV for Butler University basketball games.
Will Byrne's become a go-to place for Butler students who have a decided lack of dining options? I'm not sure whether your average college student would consider the small pizza a full meal you'd expect it to be for $10. But in an area hungry for a good pizza joint, Byrne's could still get by on local business. A half-price wine-bottle night on Tuesday and $3.50 drafts on Wednesday evenings should help, too.•
Please enable JavaScript to view this content.