Shareholders of Anthem Inc. and Cigna Corp. on Dec. 3 eagerly approved of the companies' plans to get married.

But lots of other investors are betting the health insurance giants won't ever make it to the altar—an outlook driven by concerns antitrust regulators or other obstacles will prevent consummating the $45 billion deal.

That's why Connecticut-based Cigna's shares are trading at just $140 per share—a whopping $48 below the price in cash and stock Anthem promised to pay to acquire Cigna.

In recent history, that's a huge number for what investors call the arbitrage spread—the difference between the promised purchase price and the trading price of a company that has agreed to be acquired.

The same story is playing out between Aetna Inc. and Humana Inc., which agreed to a $35 billion merger in early July. Shares of Louisville-based Humana are trading for about $173, even though Aetna agreed to pay $230 per share in cash and stock.

"It has certainly surprised everybody about how wide the spreads are," said Ana Gupte, a health insurance analyst at Leerink Partners in New York. "It's a question I still get from investors."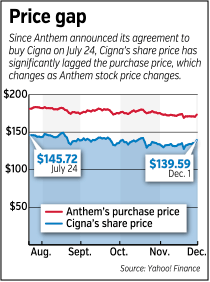 Several factors are keeping Cigna's and Humana's stock prices well below what Indianapolis-based Anthem and Connecticut-based Aetna have promised to pay.

Looming largest, Gupte said, is that investors retain significant doubts that U.S. Department of Justice antitrust officials will let the health insurance industry's big five companies combine into just three. Anthem and Cigna would become the nation's largest health insurer, just ahead of Minnesota-based UnitedHealth Group Inc.

Anthem CEO Joe Swedish argued before Congress in September that the Indianapolis-based company needs to get larger to negotiate lower prices with health care providers and to fully implement its efforts to reduce spending by keeping patients healthier.

The deal with Cigna would "enhance our ability to manage the cost drivers that negatively impact affordability for consumers," Swedish said.

But Assistant Attorney General William Baer, who leads the Department of Justice's Antitrust Division, said in November that consumer choice is a bigger priority than health companies' desire to add market share and gain leverage over providers like hospitals.

"Courts have long rejected that countervailing market power justifies anti-competitive mergers or agreements," Baer said at a conference at Yale Law School, according to Bloomberg News. "It's not at all clear that consumers win when a merger is justified solely on creating negotiating power—the so-called second 800-pound gorilla defense."

Another potential problem is that insurance commissioners in each state where the companies operate would have to sign off on the deal. Those regulators could issue demands that Anthem and Aetna find so distasteful they scuttle their deals, Gupte said.

The insurance commissioner in Cigna's home state of Connecticut and in Humana's home state of Kentucky will be particularly influential.

Mergers with significant regulatory risks often do have larger arbitration spreads, according to a 2012 study by University of Tampa economist Brenda Kahn, in large part because it takes longer for them to be resolved.


Swedish
But the Anthem and Aetna deals have even larger gaps than some recent deals with significant regulatory challenges. For example, Comcast Corp. agreed to buy Time Warner Cable in February 2014 in an all-stock deal valued at $158.82 per share.

That deal was ultimately scuttled by the Federal Communications Commission, in April 2015. But four months after the deal was announced, Time Warner Inc. stock was trading at $15 below the purchase price promised by Comcast—a significantly smaller spread than is the case now with Cigna and Humana.

"It does indicate the market thinks there will be some difficulties in closing the deal," said Gaurav Jetley, managing principal at the Boston-based Analysis Group, who wrote a 2010 paper on how arbitration spreads have narrowed significantly since 1990.

The spread between Cigna's trading price and Anthem's promised purchase price is 23 percent. Anthem's deal was valued at $188 per share based on the value of Anthem stock in late May. But because Anthem's shares have fallen 19 percent since then, its purchase price now would be about $172 for each Cigna share.

Anthem promised to pay $103.40 and to give 0.5152 share of Anthem stock in exchange for each Cigna share.

In the Aetna-Humana deal, the spread is 24 percent. Aetna promised to pay $125 in cash and give 0.8375 share of its own stock for each share of Humana stock. Based on Aetna's current share price, that deal is now valued at $215 per share—rather than the $230 per-share value when the deal was announced.

Spreads of 23 percent and 24 percent would rank as some of the highest in any year.

According to data compiled by Jetley and his colleague Xinyu Ji, the median arbitrage spread ranged from nearly 8 percent in the early 1990s to as little as 1 percent in 2012 and 2013.

The spreads on Cigna and Humana stock would have been higher than three of every four deals in every year except one from 1990 to 2007.

Even if Anthem and Aetna are able to obtain all the regulatory approvals they need, they still don't expect to complete their acquisitions until the second half of 2016. That's longer than many investors want to leave their money at risk.

"Investors are concerned that they won't get any closure until the summer at the very least," said Gupte, the health insurance analyst. "If you have patience, then it could be a good opportunity."•